---

Been a hot minute since I've been on here. Here's a quick recap how my car has progressed without getting crazy into detail

From here, I decided since I had such functional wheel specs, I could run some wider tires. Went for 245/40 Continental Extreme Contact DWs. Raised the car up a bit too.


AEM Cold air with bypass and mesh filter cover to protect against rain. Also swapped out my AEM short ram because it was just too damn loud and kinda droned. The cold air was much more reasonable sounding.


pieced together a Magnaflow exhaust setup....2.25" mandrel piping, 18in Magnaflow resonator, and this dual tip muffler


Got some retrofitted headlights with monster 3in Morimoto FX-R projectors. The light output on these is so nice.


Also grabbed an authentic Azect grill, and a Modulo front lip.


Then things got interesting......
Ever since getting my Racing Hart Tracers, I've become a lot more interesting in building and restoring 3-piece wheels, especially Racing Harts. I had been scouring the internet for something dirt cheap to get my hands on that could be the base of a new build. Finally had these drop in my lap.....17x8 +30f, x9 +35r Type Cs. So i now have both versions of the Type C, which has been one of my dreams.

I initially was going to just to a minor restoration, and daily the Type Cs....but one thing led to another and that went right out the window. The Tracers because of their functional specs will stay the daily wheels. The Type Cs will be getting a full rebuild, down to the hardware.
The first step though, was finding center caps....which any of you who have had these wheels (or any 90s Japanese wheel) is no easy task. The wheels had come with 3 dishes and 3 hex caps, but only one center coin, which was pretty beat.


Not the best start. But I decided I could complete my set, whatever the cost was....and I believe I got pretty damn lucky. I first found this pair of blue caps on Yahoo Japan. I snatched them up asap. They were in very good condition. So I now had 3 complete caps.


As luck would have it, I was able to source 2 more caps. I actually ended up purchasing a complete pair of Type Cs from Japan lol. I kept the caps, and sold the wheels to a friend. So it worked out perfectly. The wheels themselves were in incredible original condition. They were barely used. And the caps were red to boot.

So now, I have 5 full caps and have pretty much completed my set.


Now that the caps were sourced, I moved on to the lips.....I was previously undecided on which route to go. One thing I had to account for was that the front pair of wheels were high disc to clear big brakes. Which while this is good, it makes running a square setup almost impossible. Which is fine. the fronts were initially 17x8 +30. The rears were 17x9 +35. I had collected a bunch of lips at one point, to help me decide what specs to run. Left to right is 17x8 (1in lip), 17x8.5 (1.5in lip), 17x9 (2in lip), and 17x9.5 (2.5in lip)

After doing some test fitting, I settled on running a 1.5in lip up front. Because of the high disc face I couldn't go any bigger. So the front specs will be 17x8.5 +24. For the rears, I went with the 2.5in lips, which changed the specs to 17x9.5 +29. I will have to add a little camber to fit the rear,s but that is not an issue. I actually currently have the camber taken out to -1.5 degrees....going back to natural camber at around -2.5 should fit the wheels fine.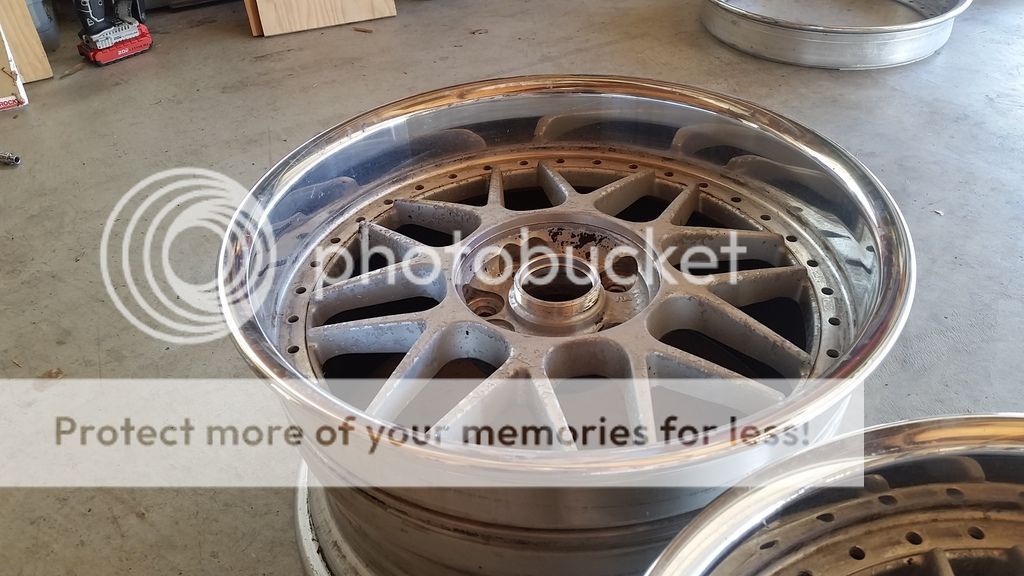 Once I decided on the lip sizes I got rid of a few of my extra lips, so I could buy some good condition ones in the sizes I needed. I scored a pair of 2.5in lips for $30, and then found a brand new pair of 1.5in for $100. As of tomorrow, the lips and center cap dishes are being sent to be chrome dipped. My preivous experience with polishing the lips of my Tracers made it worth it to pay for chroming, and have about 10x less maintenance on the wheels lol.


Had the faces and inner barrels done in Mirror silver. Very close to the OG color but with some flake, and a gloss clear top coat for that extra depth.


Then off to Threepiece.us they went for final assembly (I also ordered all new chrome hardware, nuts, and valvestems). Got them back, and couldn't have been happier.


Bought some brand new rubber.


Then got everything all fitted and nice.


Drove on them for about a week, then took em off because 1) they are too nice to daily and 2) I hated the front rubbing all the time.

Then last week I sold them
But for a good reason.....

Had an H22A4 basically drop into my lap. Something I've wanted for a few years now. Using the money from the Type Cs to pay for pretty much most of the swap and all the goodies I want. Already started collecting parts too.....first off was the ECU. With this swap, I want to be able to BAR the swap, so I was very limited on what ECU I needed to run. I lucked out and found a P13-A12 from a '96 Lude which is exactly what I need. Goal is the pass smog one more time this fall with the stock drivetrain, then swap in January. That way I have plenty of time to work out any bugs or problems that may arise while prepping the car for the BAR exam.


Snagged an FGK header for dirt cheap too. Has some minor denting in the downpipe, but nothing serious.

While doing the motor swap, I have a lot of other stuff I plan on doing too....first and foremost the 5-speed to match the engine. Have most of the needed parts for the conversion....H trans will be getting a few needed parts, I already have a JTC Customs short shifter, and will be getting solid shifter bushings, S2K CMC conversion, etc. Also gonna snag some Innovative engine mounts, Koyo rad, and some other misc parts for the swap. I'll be cleaning up the bay as well, deleting a few things here and there, redoing the wiring nicely, etc. Won't be tucking anything really though, as I want the bay to appear close to stock for inspection purposes.

Since I sold the Type Cs, and recently got a down payment from a friend on the Tracer Type Cs, it was time to find another set of wheels, and I wanted something light, that could be trackable....ended up getting my 5th set of 5Zigens. Bought them from the original owner, and they were in near mind condition. Specs were 17x9 +35, and 17x8 +25. I planned on reverse staggering them.


While they were still sitting in my garage, I threw em up for sale for shits 'n giggles, ended up trading them for some Volks. Threw $150 on top and got me a set of 17x9 +23 and 17x8.5 +40 CE28Ns. Probably the best come-up I've had. I've always wanted a set of TE37s, and while the CEs were never my favorite model, after mounting a pair on the car, I changed my mind. I love how they look on the car.


I will be reverse staggering them.....the 17x9 +23s have brake clearance for days. They are a little on the aggressive side though for the car.


Ditched the econo Koyo's that came on the Volks for some new rubber. Ended up grabbing some 235/40/17 Federal RS-RRs. For the price, they really can't be beat.


Mounted them up to the 17x8.5s. Jesus they are wide. Measured and they are actually wider than my 245/40 Continentals.


Had a rear disc conversion with the 5 lug sitting around for some time, and with the Volks ready to go I finally had the motivation to throw everything on.


A few parts that I installed:
Goodridge SS brake lines
Centric Premium High Carbon rotors
ARP extended studs
Timken rear hubs/bearings (not pictured)
Stoptech Street brake pads (not pictured)


Sideshot with all 4 Volks


With all 4 Volks mounted however, I did have one issue to face.....one pair of the wheels being 17x9 +23 with a very fat 235/40 tire was going to be a bit of pain to fit. Since I didn't want to run hella camber in the rear, and I'm a functional guy at heart, I decided to reverse stagger them. That meant massaging the fronts to fit the aggressive specs. Also a perfect time to install these:


Fender wise, the ultimate goal is to buy and install a pair of Stage21 10mm widened fenders. In the meantime though, I spent $5 at Lowe's on some washers and bolts and "spaced" out the fenders a bit to help fit the wheels.

Its not pretty, but it got the job done, and I have zero rubbing, which was the goal.


got a free CF hood. Fitment is ok, and it latches good. Will probably get some Aerocatch hood pins though just in case.


Newer, better condition Rays valve stems, and some brand new caps for the Volks.


I also just ordered a set of these Project Kics Leggadura 2-piece lug nuts. I've used Muteki lug nuts for the last 4+ years with no issues, but for the Volks, I wanted something nice. This particular set caught my eye because being 2-piece, you can crank and torque the base chromoly lug nut without having to be super anal about scratching, then install the color Duraluminum "cap" afterwards. This also can prevent against fading if you leave the caps off. Also, it means you need 3 different keys to remove them, which is a pretty good deterrent for thieves.


I've had an EK9 Type R steering wheel sitting in my room for a year now. Ended up selling, and copped this great condition AP2 S2000 steering wheel (with an AP1 airbag) for $150. About $100 cheaper than they normally go for now. Just got it installed, and have it all wired up and running correctly....airbag and horn were a direct fit, and the cruise just needed to have the wires cut and re-sautered to fit the S2000 setup. This thing makes a huge difference in driving feel, and looks like it should have come in the car to begin with.


And lastly, Buddy Club had their annual garage sale over the weekend. Since they're local, I dropped by and ended up buying myself a seat LOL. Got it close to half price. Surprisingly I actually fit in it, which is the main reason for buying. Just need some Planted Technologies brackets and I can mount it in the car.


Next major hurdle to clear will be the engine swap. I have about 80% of the parts now....just a few items like Innovative mounts and a Koyo radiator. May also grab an M2B4 LSD trans too, instead of the base Prelude trans I already have. Should have everything buttoned up for spring, and hopefully I can have the car ready to hit the track next season. Stay tuned!
---
The Accord Collective
IG: hooligan_accord