mportedcivicsi - EM1 things

« »

3:06 AM 12/28/2016

Reply Edit
---

I'm all in with forums making a come back. I've been around a little while, but don't post much here. Mostly on EM1Crew, until the server host shut down without notice. But also on a couple other forums.

From kind of lost modifying with cheap parts, to finally finding the direction I'd take the car, hang on for a post dump. I'll update with everything I have to current.

Car was purchased in September 2005 and has taken form over the last 11yrs. Pics are in chronological order.


Parts list:
Interior
- Sparco Ergo (M) driver w/ PCI floor mount rail
- Sparco Pro2000 passenger w/ PCI floor mount rail
- Black RaceQuip 6pt harnesses w/ arm restraints
- AP1 S2000 steering wheel w/ cruise control
- AP1 cluster conversion w/ WireWorx harness and K Tuned converter
- AutoMeter Quick light shift light
- ProSport digital wideband AFR gauge
- Defi ZD Advance
- AutoPower Race rollbar powder coated matte black
- Cusco door bars
- Spoon duracon shift knob/ Buddy Club (Rotating Daily)
- Karcepts weighted shift knob (Track)
- OEM CTR shift boot
- WorxTuning dead pedal
- OEM Type Rx pedal set
- Momo blue/black Ebrake handle
- Momo Black Ebrake boot
- OEM USDM armrest delete
- US Navy digi camo uniform material headliner
- Black tweed "A, B/C" pillars
- Black tweed door panel inserts
- OEM grab rail added to driver side overhead
- 2001 CRV cabin filter
- Spoon blue anti-glare wide glass in DC2R rearview mirror
- 35% doors/20% rear 3 tint
- LED dome/map lights

Exterior:
- OEM CTR headlights w/ City Lights
- Left OEM CTR foglight
- Right PWGayDM carbon intake duct
- Special Projects P1 spec Time Attack airdam w/ splitter
- Special Projects P1 spec rear spoiler
- PCI 4in race spec side skirts
- Top1 full rear diffuser
- Track Life Composites small fender cutouts
- WeberSport gen 1 vented carbon hood, color matched :(
- 949 Racing 6UL 15x9 +36 (front) 15x8 +36 (rear) w/ 225/45/15 Hankook Ventus R-S3 (street)
- 949 Racing 6UL 15x9 +36 (front) 15x8 +36 (rear) w/ 225/45/15 Hankook Ventus Z214 C71 slicks (track)
- Spoon carbon Gen3 power mirrors
- Honda Access visors
- Golden Eagle rear tow hook
- RaceQuip front tow strap
- OEM "Civic" hood bra (only for road trips)

Susp./Brakes
- Tien Type HA w/ pillowball
- Tein EDFC
- Carbing 3pt w/ MCB front tower bar
- Spoon RigiCola
- EM Racing rear upper bar
- EM Racing upper to floor diagonal bar
- EM Racing trunk floor bar
- Spoon twinblock calipers
- StopTech 2008 Mini Cooper slotted rotors
- Hawk DTC-60 pads - front
- Rotora slotted rotors - rear
- Hawk HPS pads - rear
- F7 spherical LCA's
- OEM front LCA's w/ PIC bushings + compliance bushings
- HardRace front sway endlinks/bushings
- ASR subframe brace; Cusco blue
- ASR 24mm rear sway bar
- F7 spherical end links
- PCI spherical RTA bushings
- Buddy Club P1 f/r camber kit
- Buddy Club P1 extended ball joints
- Earl's SS brake lines

Engine
- 1996 Spec JDM B18C-R
- Toda Spec A cams w/ Toda cam gears
- Hondata S300 v3
- Self customized/sleeved charge/ground harnesses
- Self customized/sleeved reverse switch harness
- Self made braided grounds
- Spoon Signed valve cover (Special occasions)
- Spoon Unsigned valve cover (Daily)
- Spoon LSD
- Spoon rad hoses
- Spoon rad cap
- Spoon fan switch
- Spoon thermostat
- Spoon plug wires
- Spoon kevlar plug cover, Gen 1
- Spoon magnetic oil/trans drain bolts
- Spoon oil pan heat barrier tape
- Spoon black rad stay
- OEM ITR intake arm w/ ITR CT filter and Comptech Icebox intake
- GearSpeed SS+ synchros
- Koyo radiator w/ slim fan
- Fastline shifter
- Dime's Performance solid shifter bushings
- Toda v2 header w/ purple haze titainium hardware
- T1R resonated test pipe
- Buddy Club spec II exhaust
- ChaseBay's black tuck clutch line
- Tein hood dampers
- Carbing cooling plate
- Hasport mounts, black series
- Various Downstar black hardware
- Black flat washer VC kit
- Steel grey VTEC solenoid cover

This shot is maybe January 2006 after I took off the 17s that were on it and put on the 16s...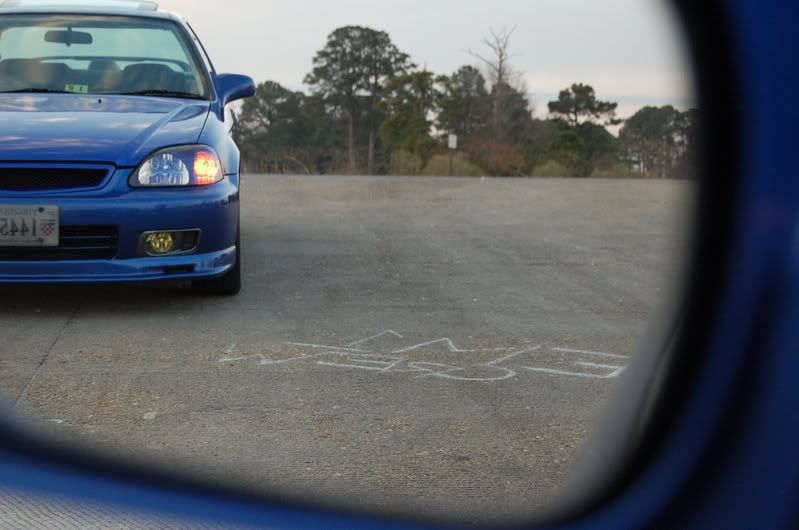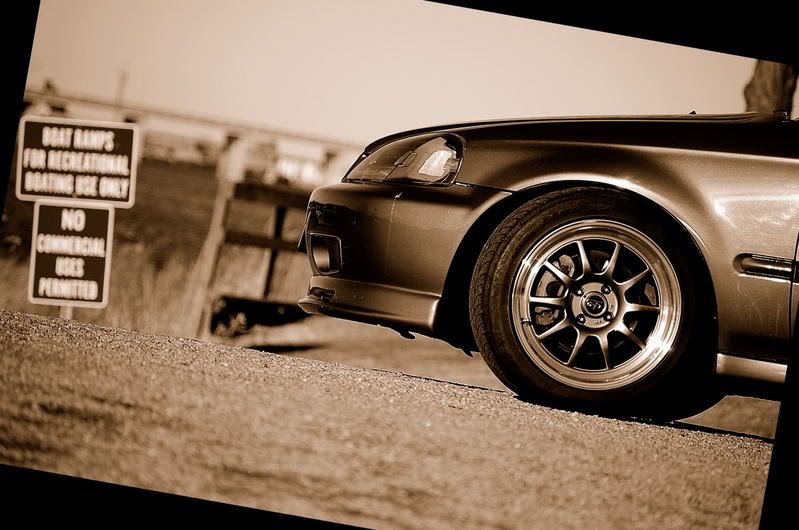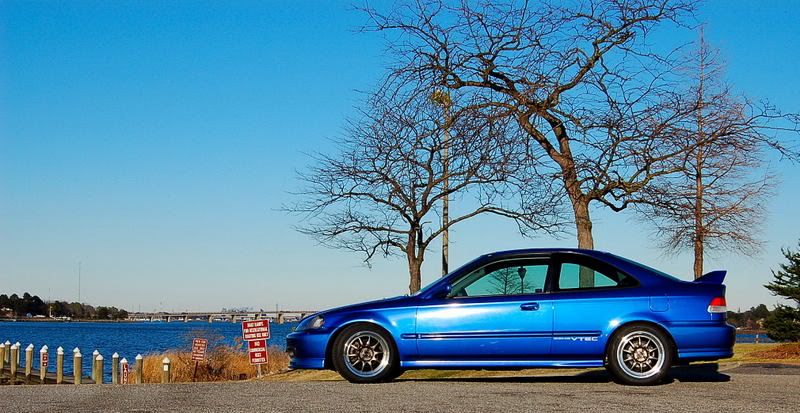 July 2008 after the current wheels were purchased…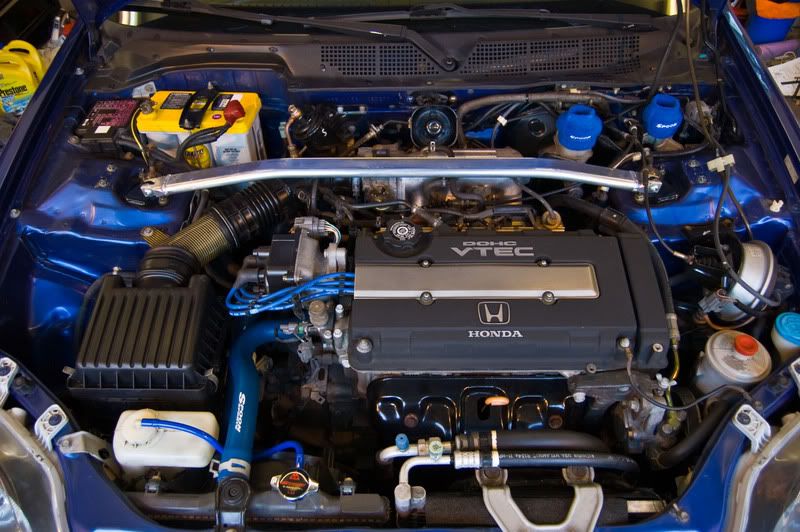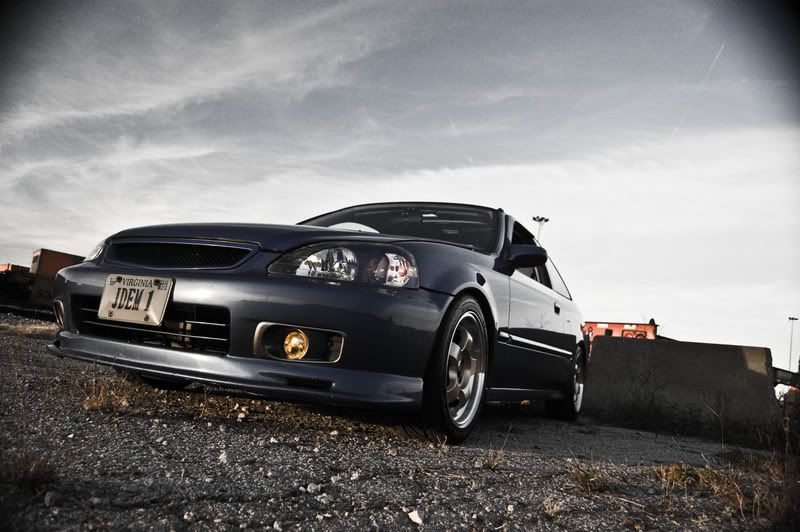 January 2009 at the time I got out of the Navy and was unemployed for a short time…
So I had these "A" and "B/C" pillars with black tweed over them from back in 2005. They were supposed to go on my FBP when it came out of the shop for the 2005 show season. The entire upper interior was wrapped in black tweed and the lower was done in blue/black tweed. I had picked it all from my interior guy and then I had to go out to sea for the Navy. It came out great and I was a week from putting it in the car. When I got back from being at sea for a week the car was supposed to be ready for reassembly at the body shop and I was going to start putting the interior back into the car. As I headed to my beater after getting off the ship I saw that I had a message from the body shop and they needed me to call. Just figuring that the car wasn't as far as we had hoped I called. Turns out that the care had been stripped of all the turbo set up, head, rims, even the c/f hood that they had to break to get into the bay...it was bad. *No the shop was not connected to this...they are like family and the sponsored the car* Anyway...since 2005 that car and all of the stuff has been sitting. I was lucky enough to find a house with a killer garage and have just stored the car. I knew the interior wouldn't look right in the EBP and I wasn't really into the full tweed interior anymore. But I had wondered how the pillars would look. I had been considering painting the interior panels black but just cannot bring myself to do it.
So Sat about 4pm the wife wants to take a nap. I said that's cool, I am going to the garage for a little while. I will come back in in about an hour to see what we are going to do. I go up in the garage attic and pull out the black tweed "A" "B/C" pillars and mock them up in the car to get an idea what they would look like. *Bumper not going on the car, just stored in the attic*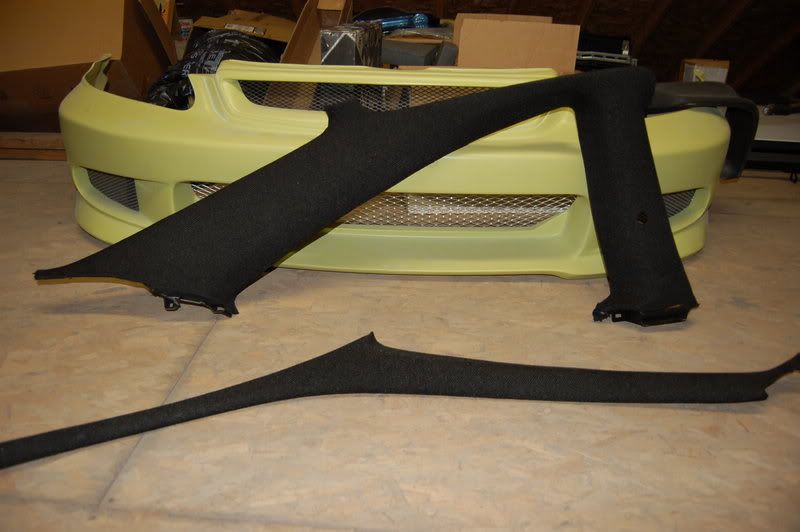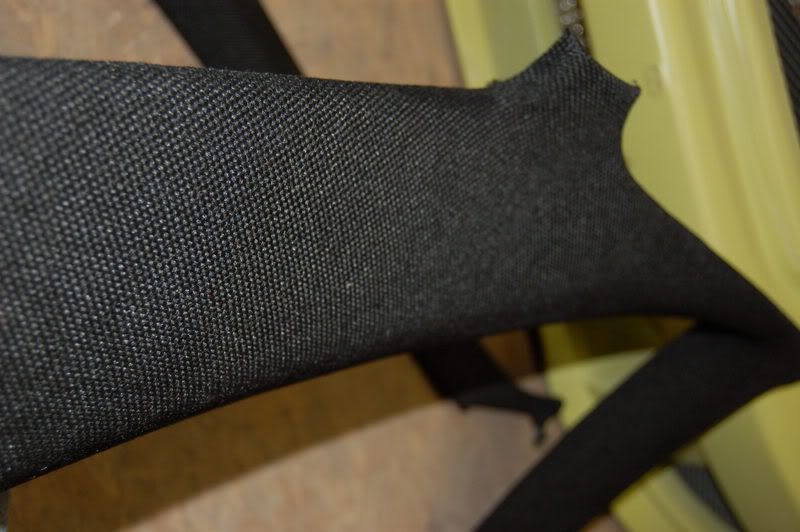 Of course you can never get a good idea unless you actually put it together. So by 5pm this is what I had...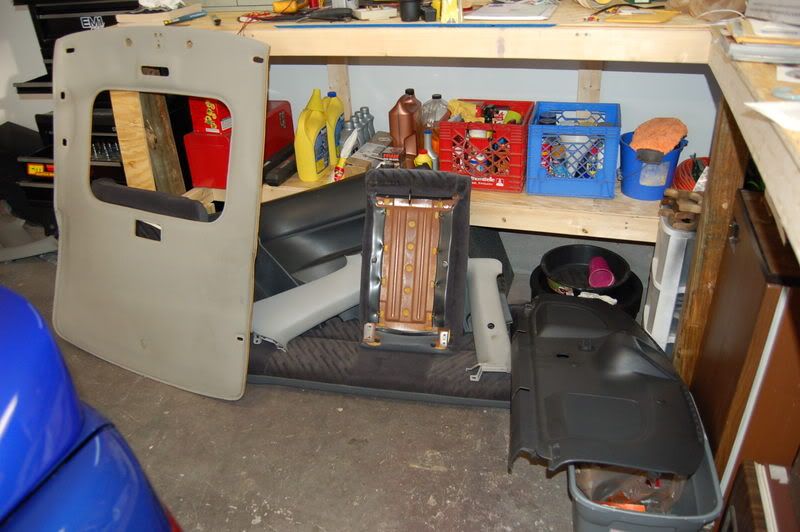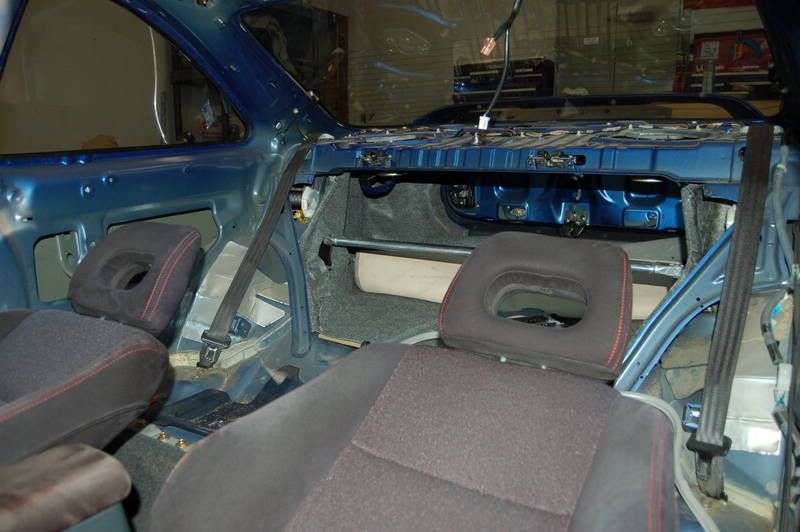 So then I got to thinking...I have this much taken apart I may as well put the c/f headliner in that had been sitting around since 2004. It was meant for the FBP but there are no plans to bring it back to life so it was going in the EBP anyway.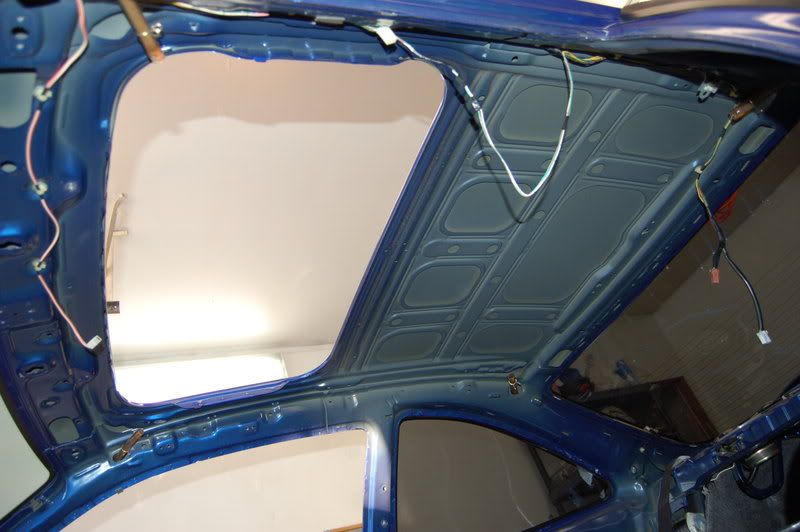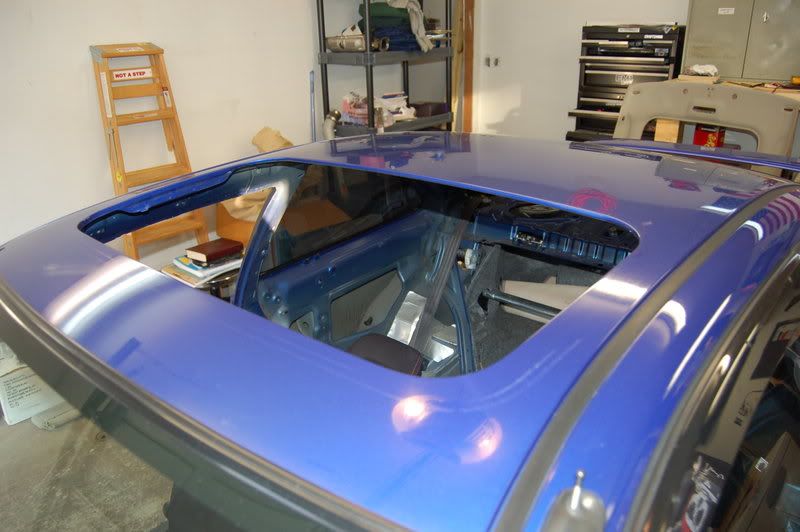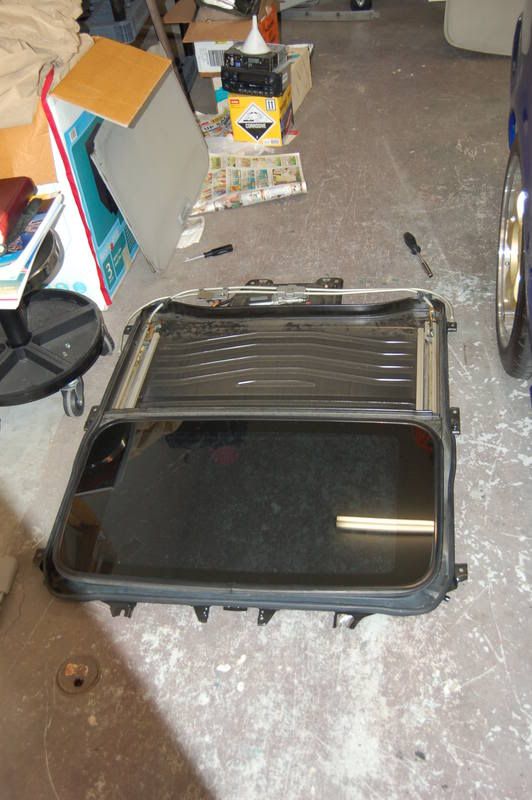 So by 530pm that night here is what my car looked like...And it was in for the night.
Sunday before Church I pop in the c/f sunshade and hung the sunroof unit back in the car and got the headliner secure enough to be left for the day. Only 1.5hrs of work done on Sunday.


Now there is no passenger handle, driver side garment hook, or front map light as the headliner was not cut for them. When I ordered the headliner I was not able to get a 99-00 as they only had a 96-98 in stock. I still have a dome light so I didn't really care...I can always cut in the map light if I feel the need for one. The other parts that are light grey are painted black to blend in with the headliner.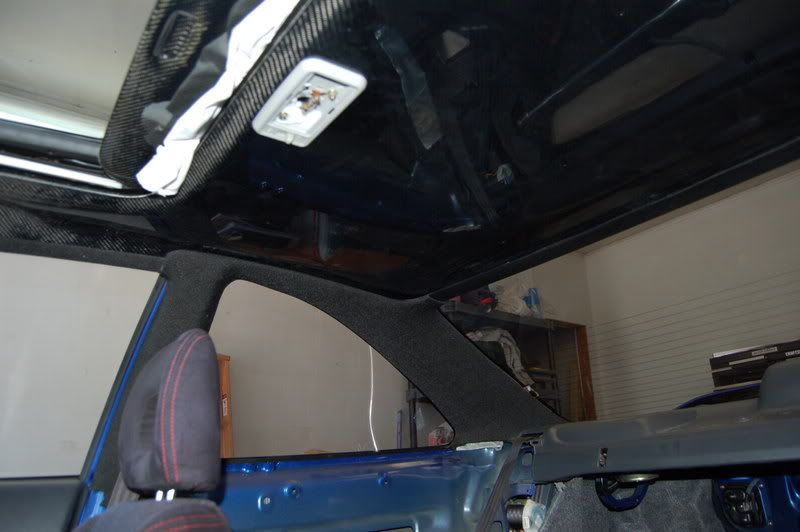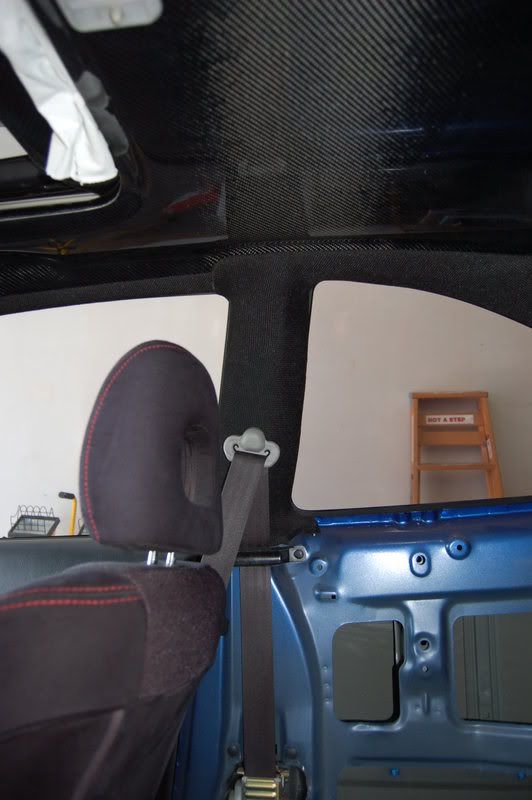 And I have had these harnesses forever as well. 3 points w/ a release in the back.

The parts that were in the way...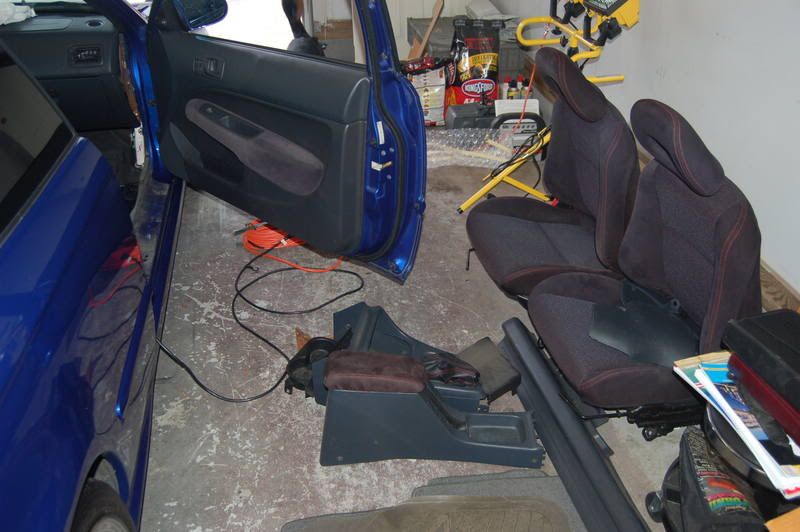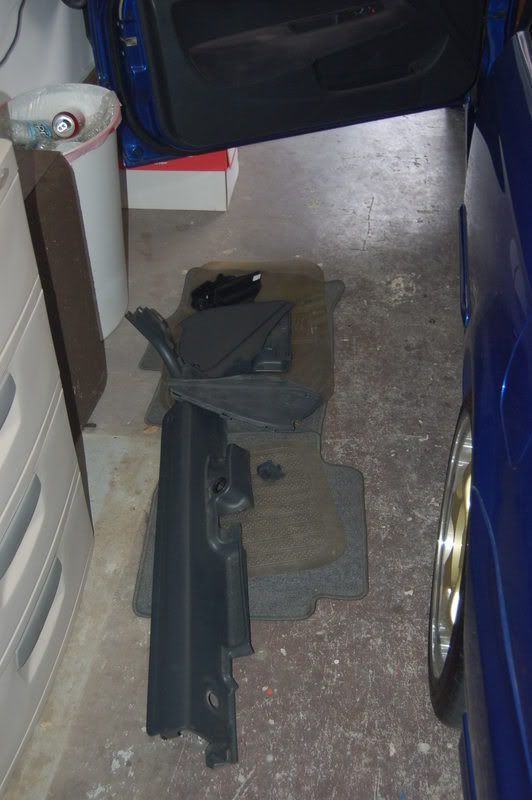 Carpet out!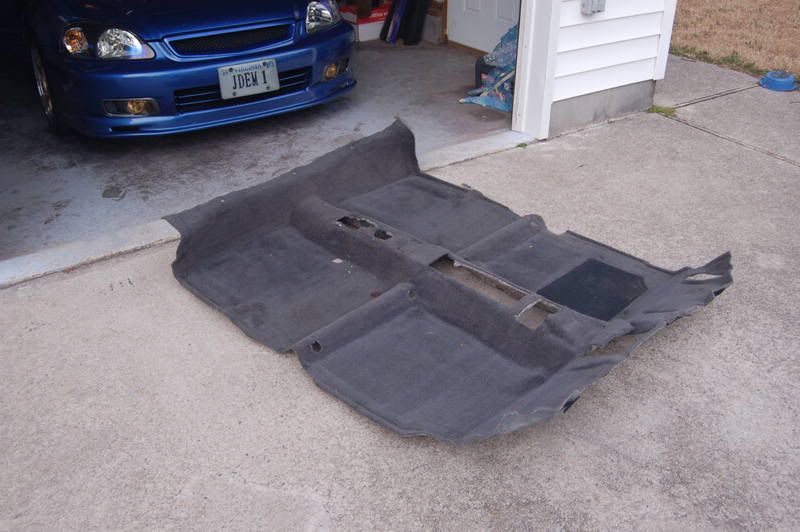 Floor pan...yes I cleaned the crap out of it before putting carpet and plastic parts back in.


Fitting and cutting in the new carpet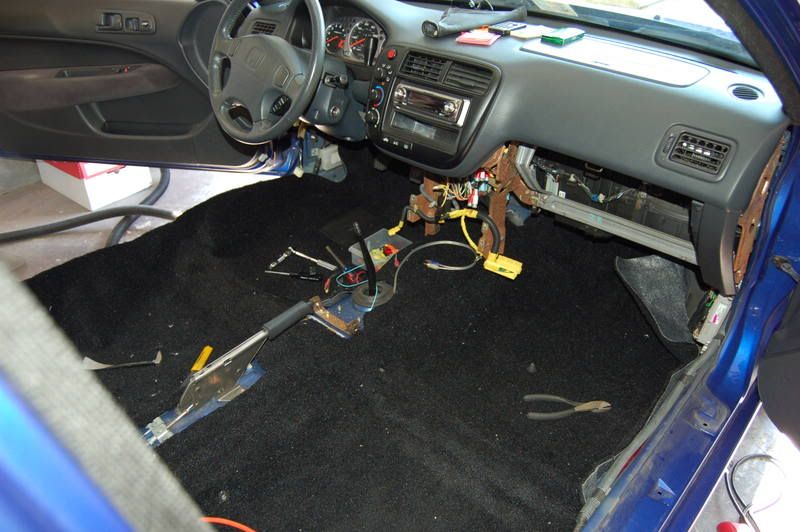 Back together!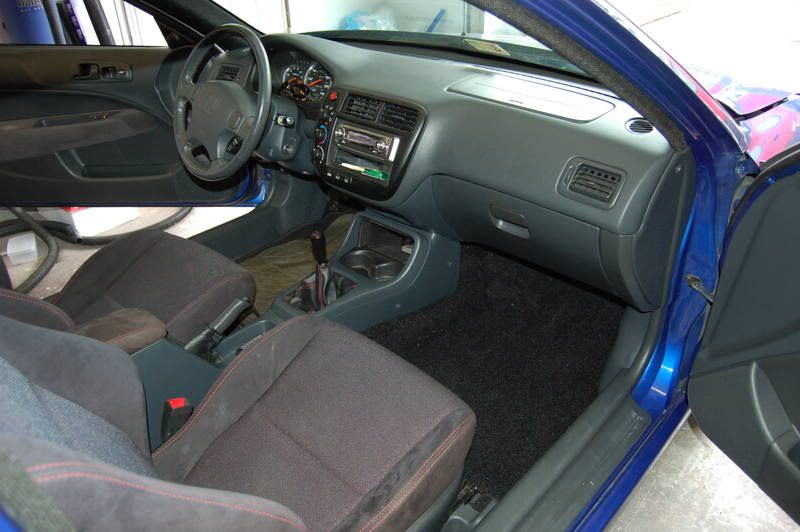 Super sweet EbayDM black CTR 5 piece mat set...pulled off the badges because they are fake and I don't own a CTR.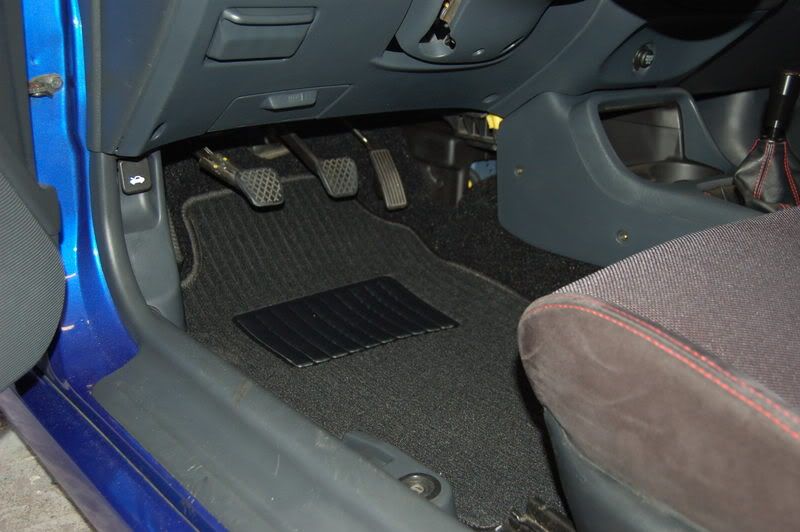 And the CF headliner with all black parts rather than the light gray. The sunroof dressing isn't popped out anymore its all worked into place and it is black as well. I need to touch up the black though.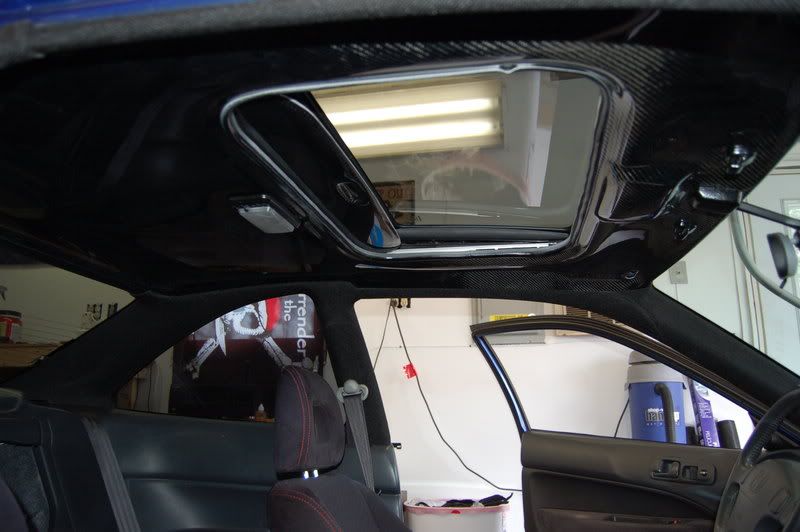 With the sunshade drawn...

Feb 2009…
Some sundown/low lighting pics…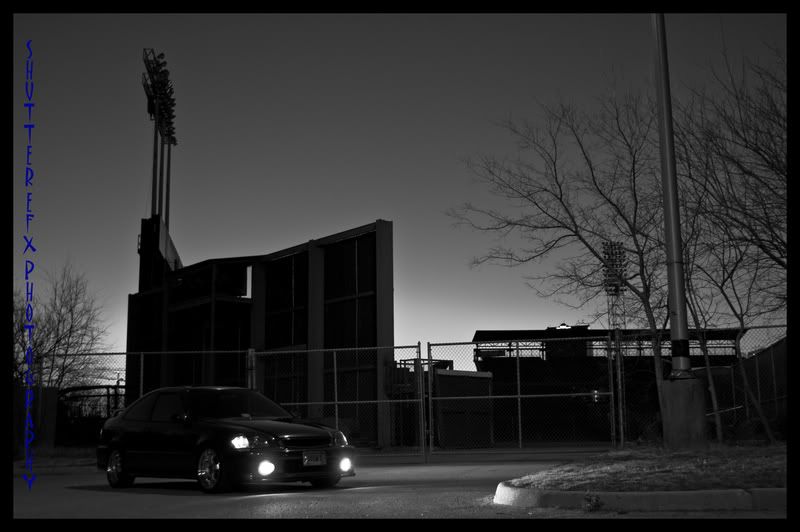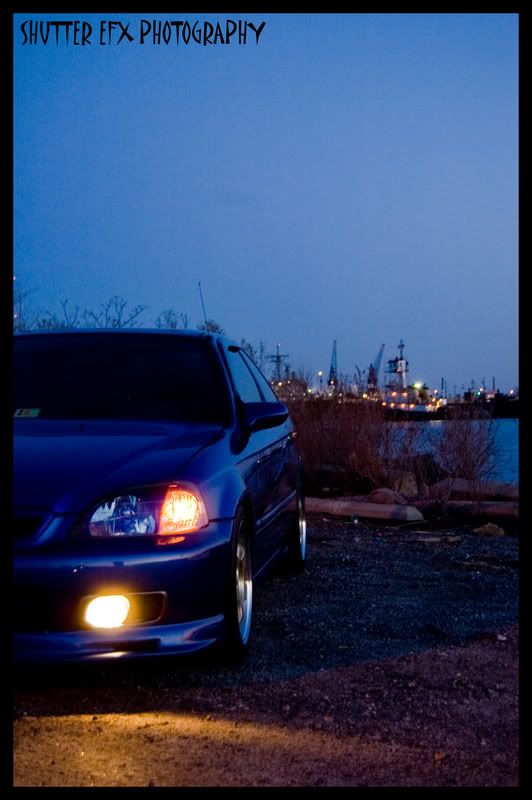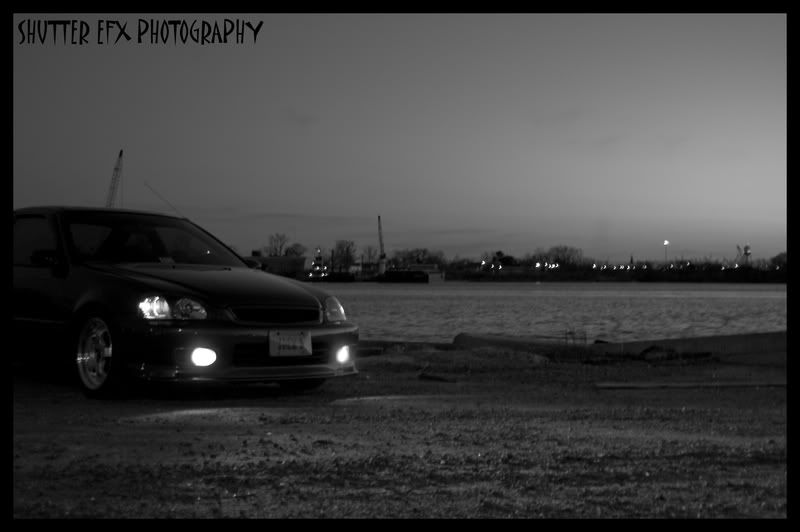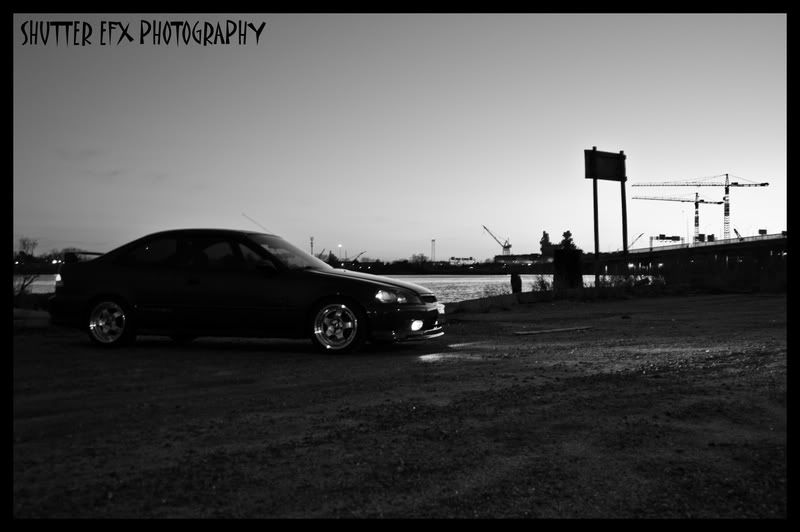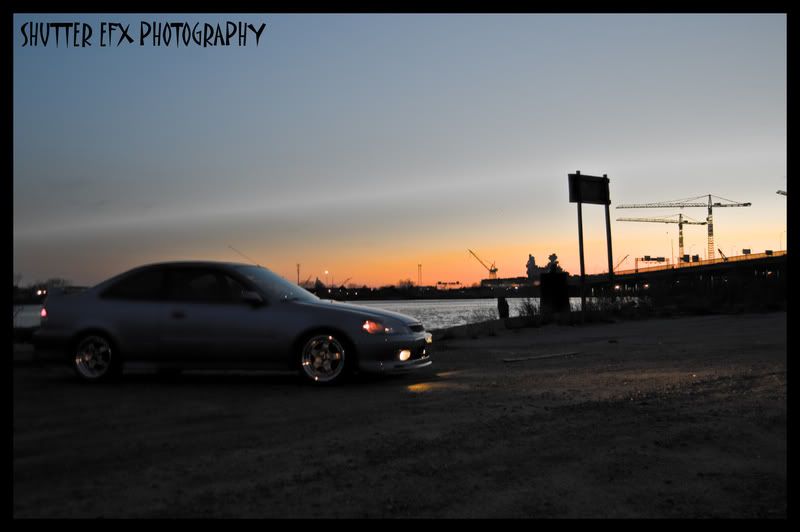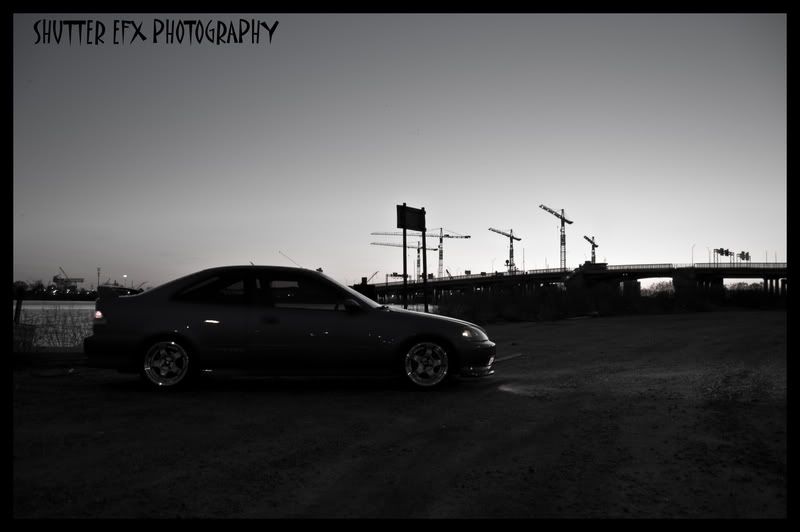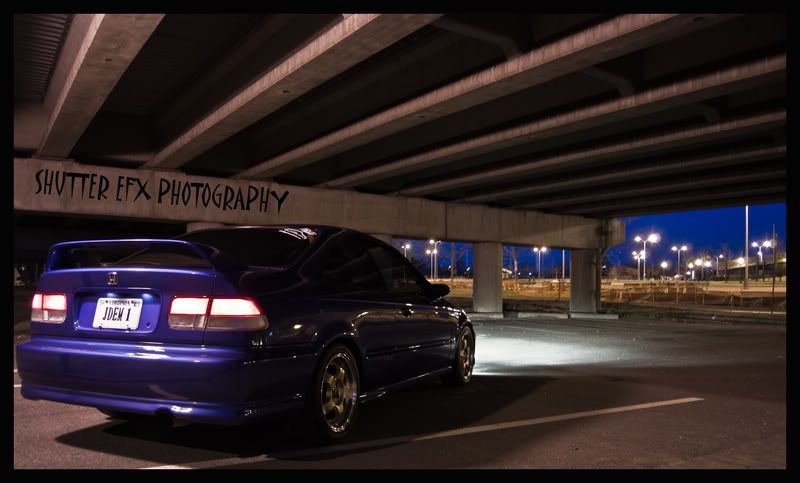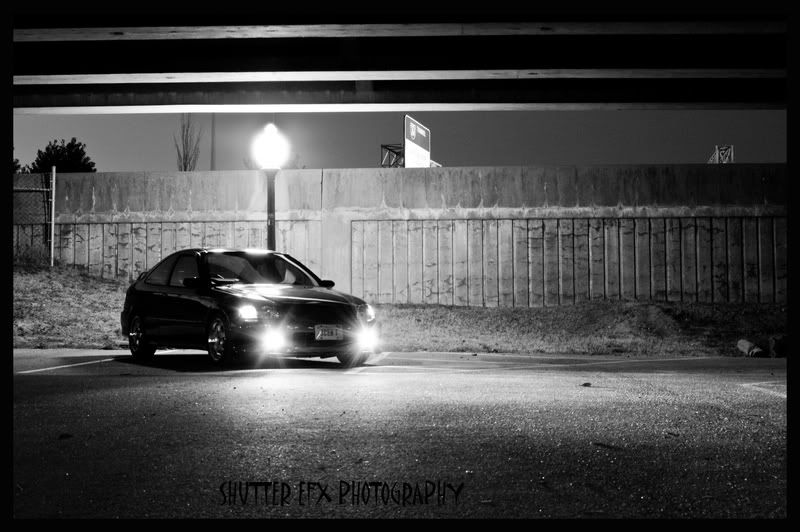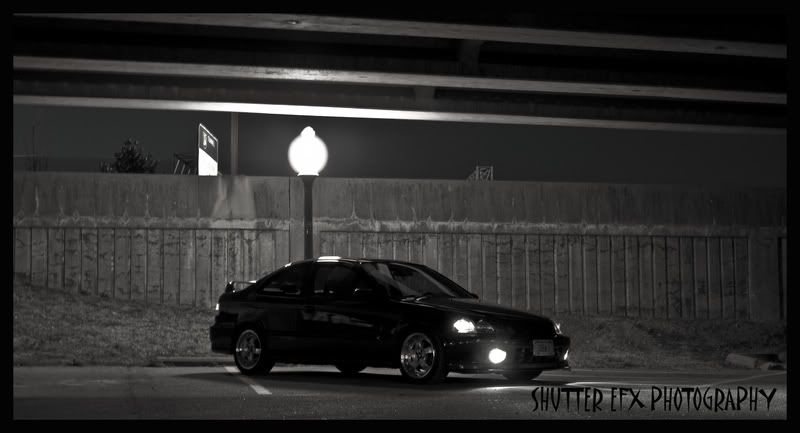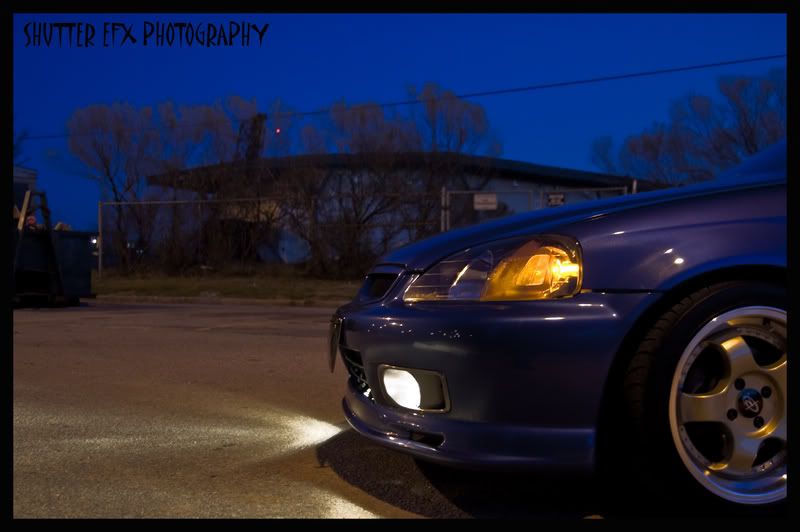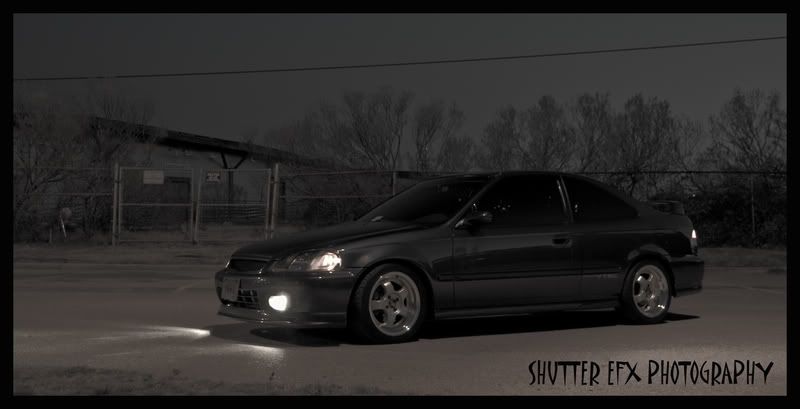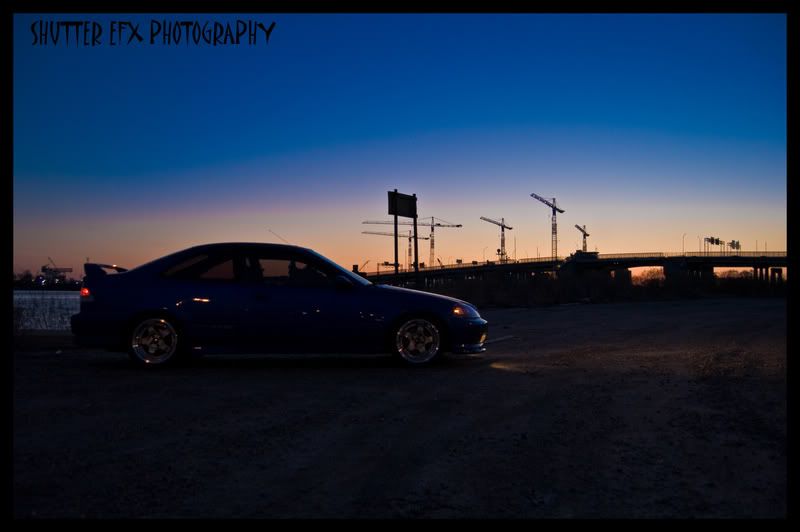 July 2009…
Picked up this Carbon Kevlar hood a while back and had it put up until I was able to do what I wanted to with it. Sparco hood pins and a fresh clear...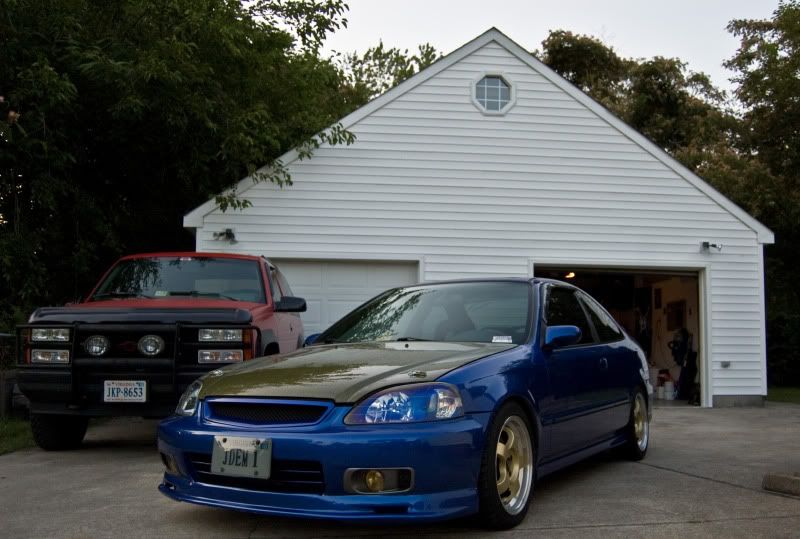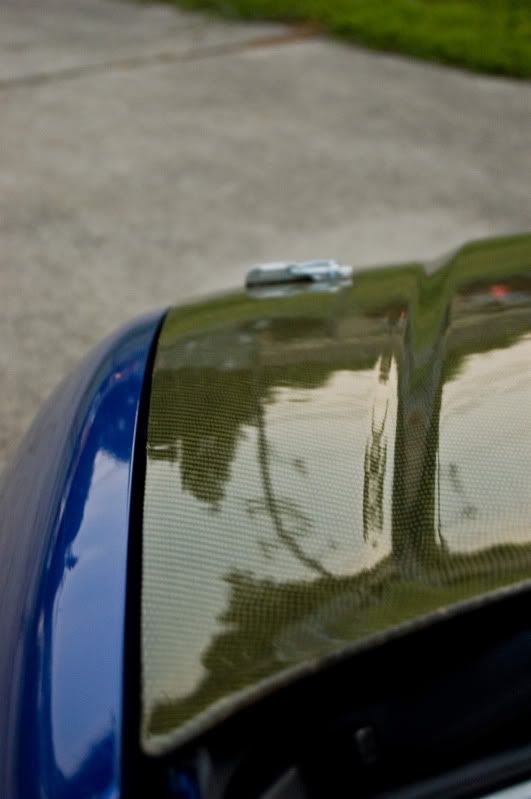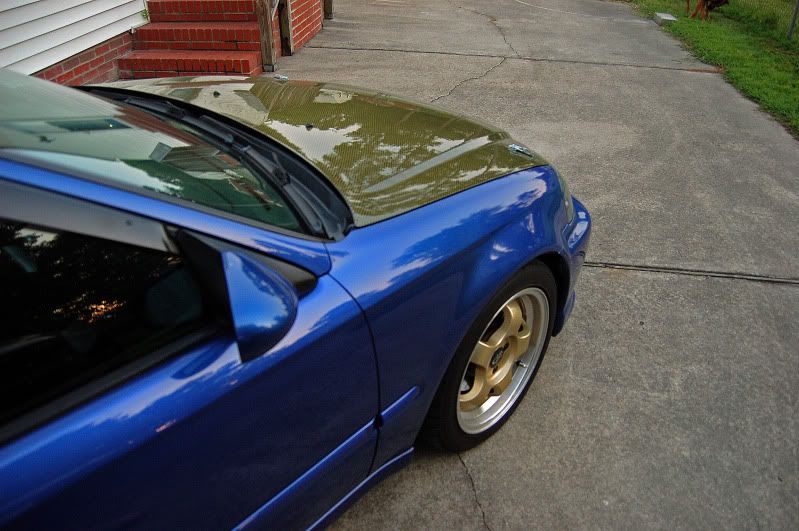 And a couple "Booty" pics...lol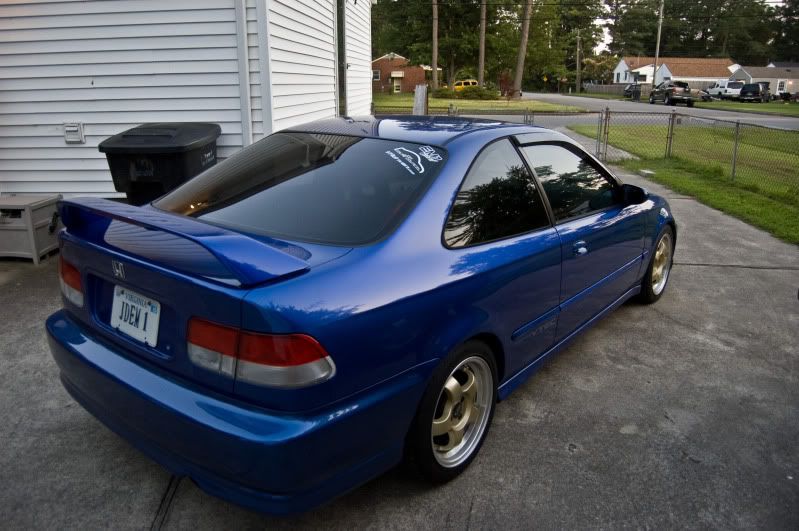 Jan 2010…
CTRs and HIDs. These are all night shots showing the lighting.
Citylights/Parking lights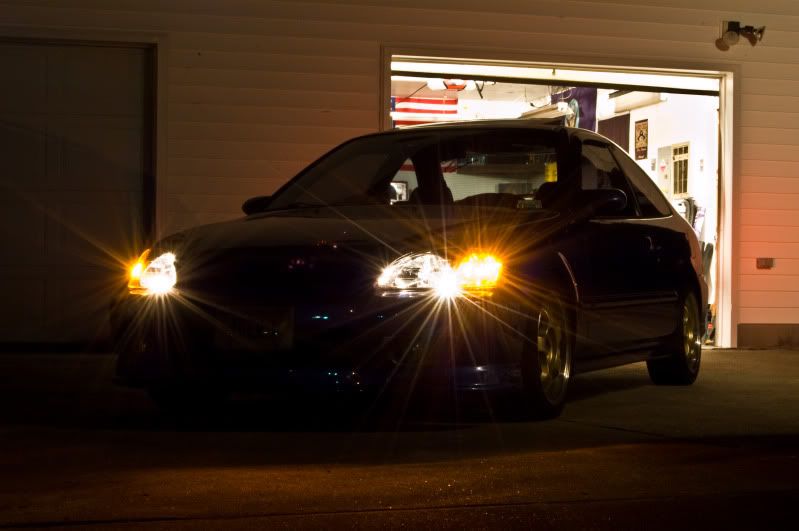 Citylights/Parking w/ Fogs

All lights HIDs=6k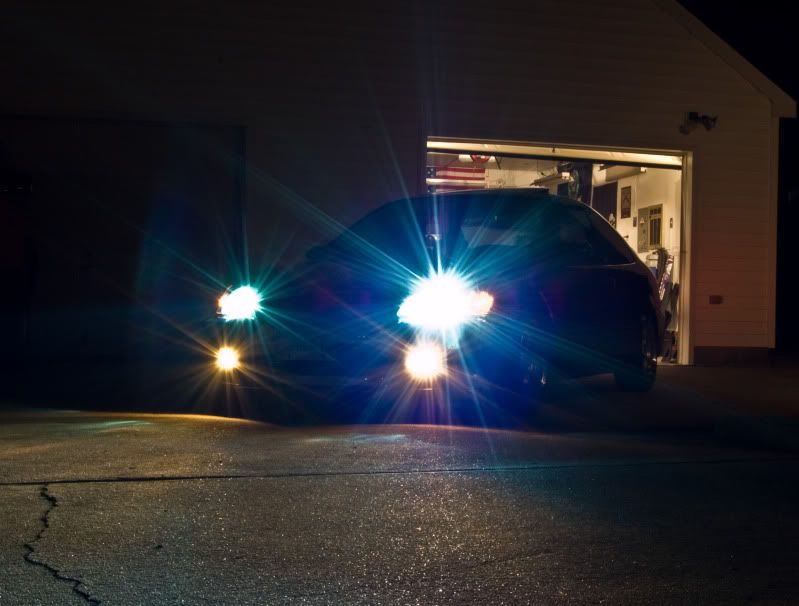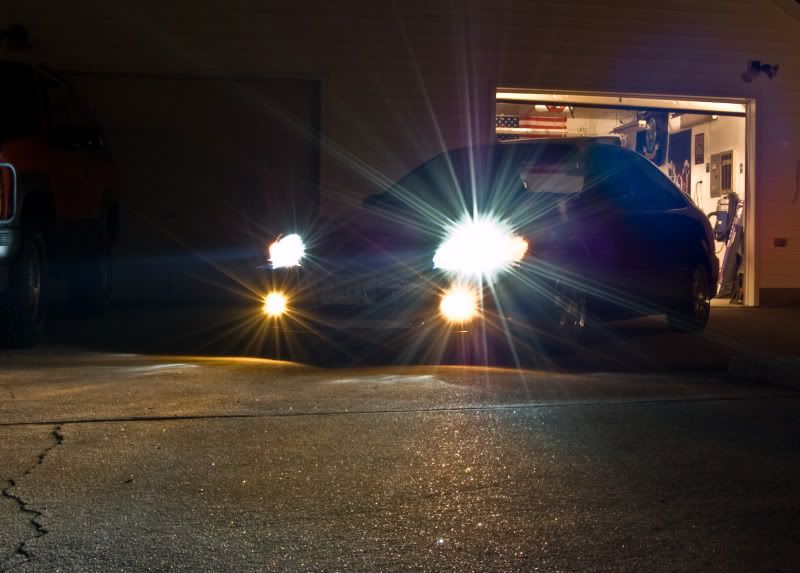 And a black/white of the last pic just because I like it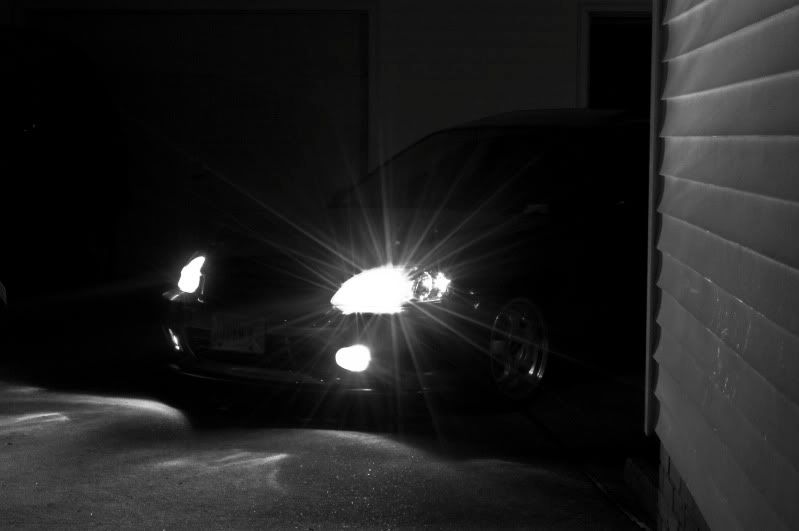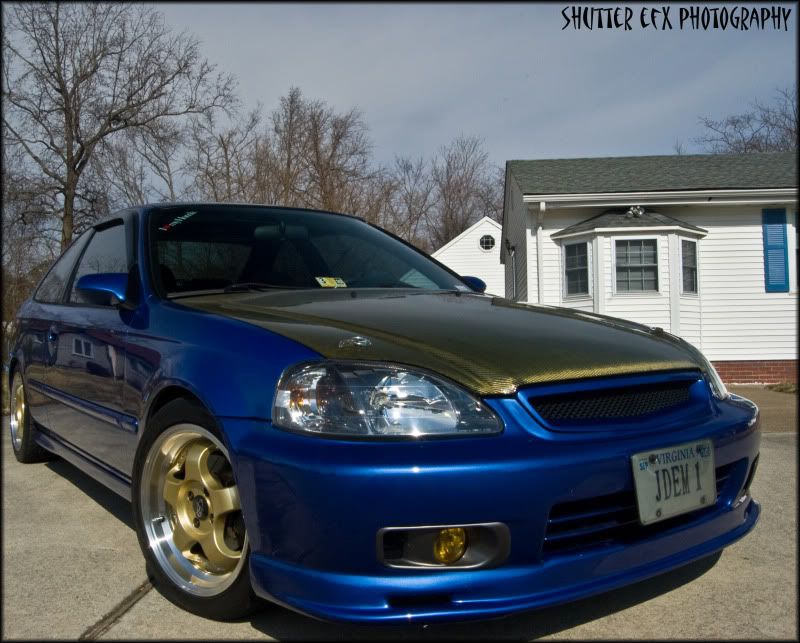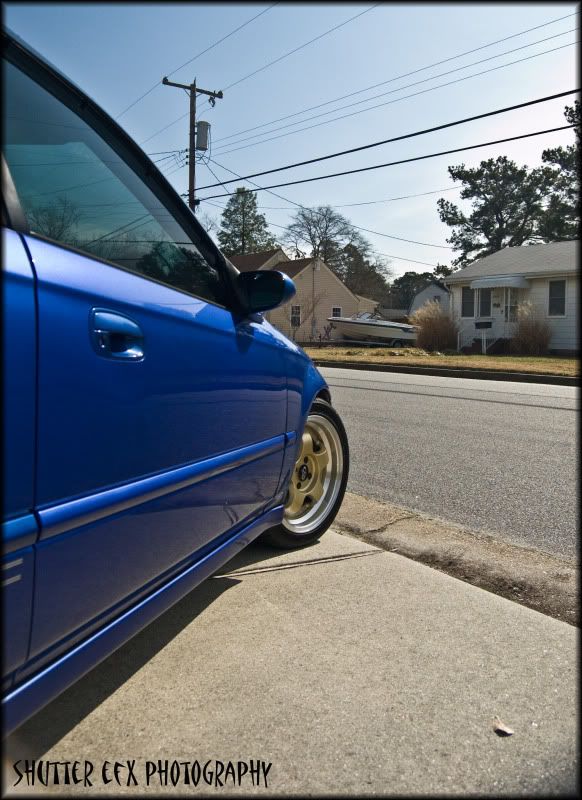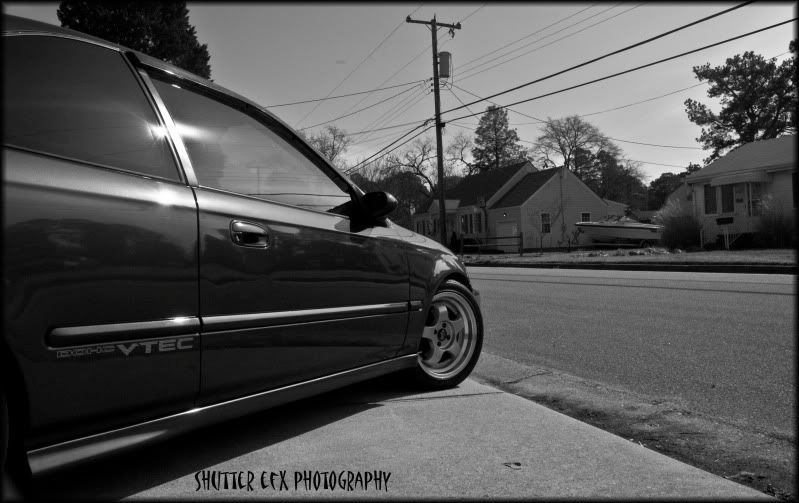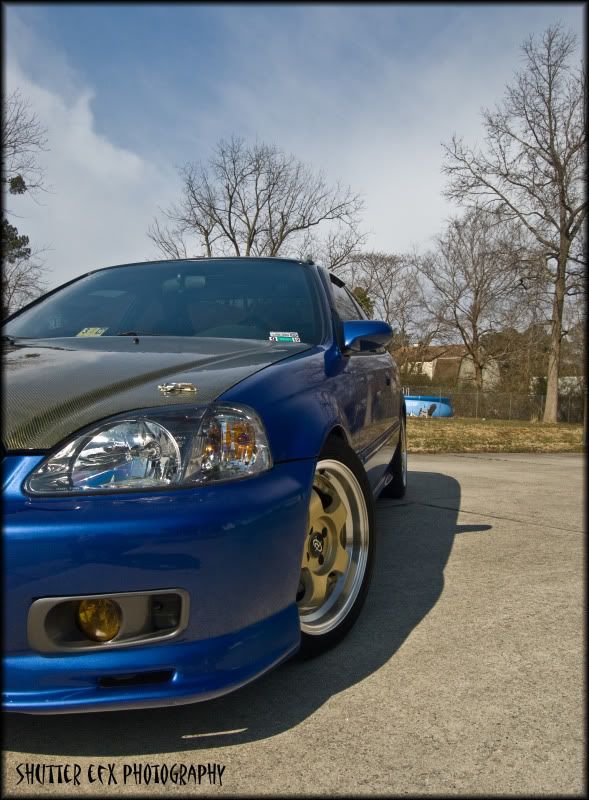 Both of my toys together...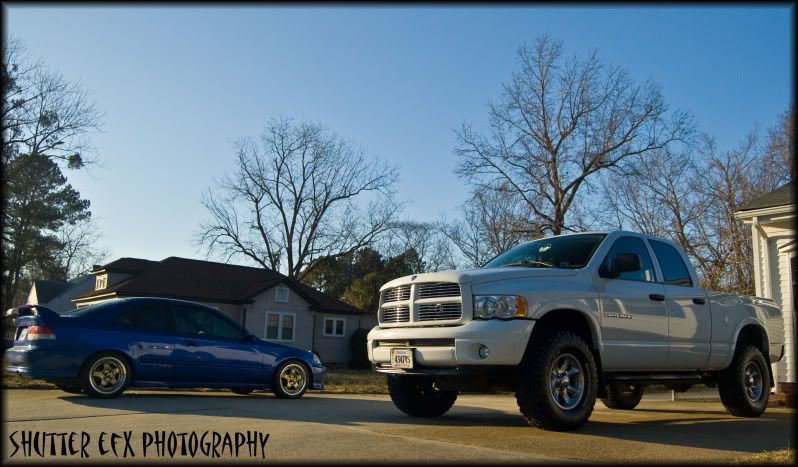 April 2010
Wife's tranny was pretty much shot and I picked up a Spoon LSD tranny sooo…Start of getting the tranny swapped for both our EM1's. So here are a few shots the wifey snapped while I was working...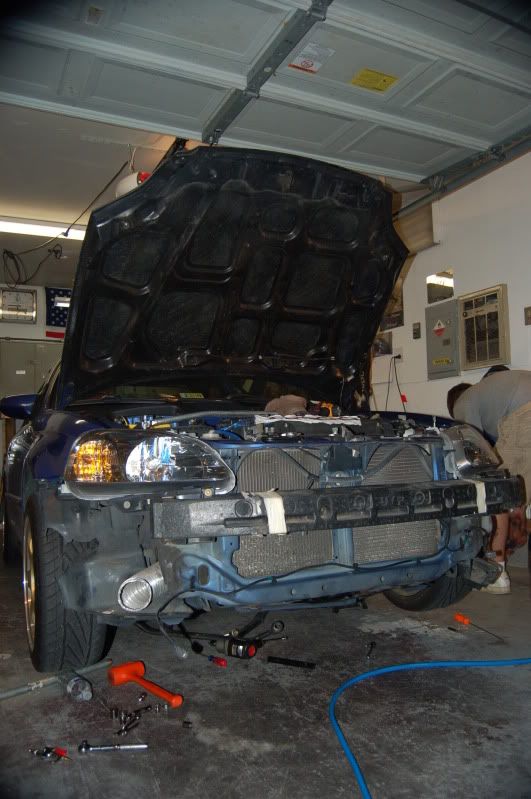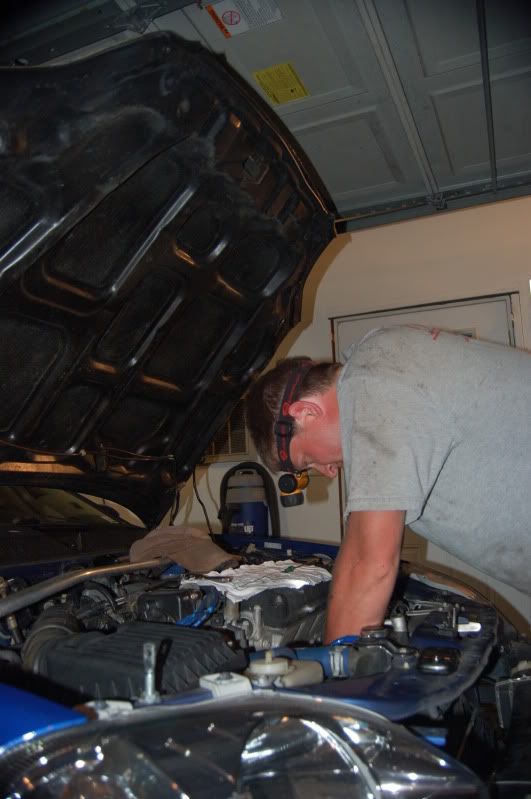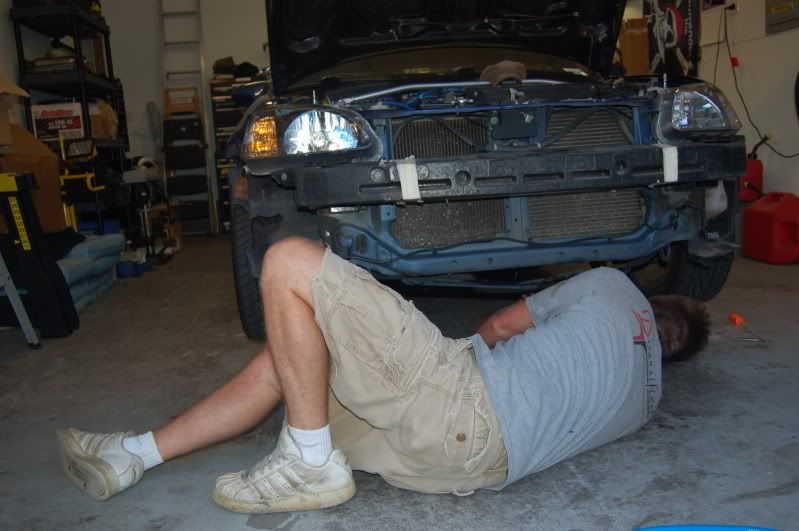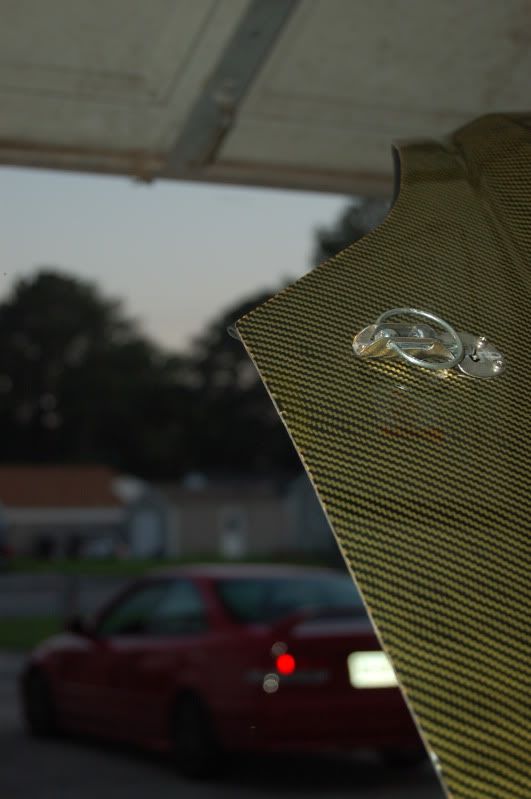 Both!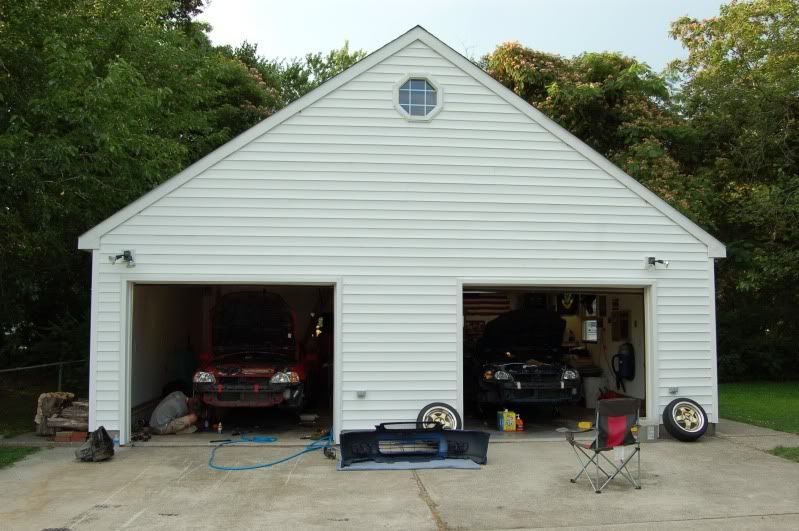 And the Vibrant header...out of hers and in mine.

Buddy of mine with an EBP EM1 was rockin' the full stock exhaust and wanted a WS2...we wanted stock on the MR...we made a deal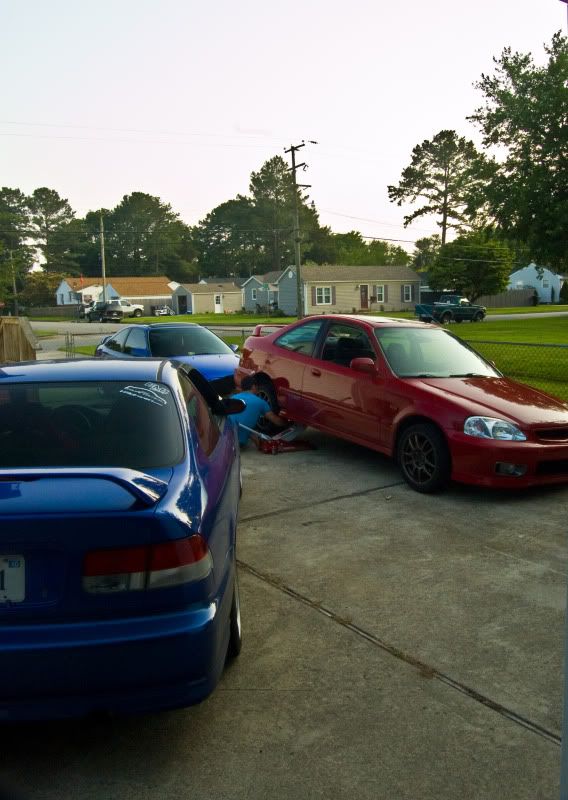 July 2010
My bay dress up...really dirty and needs a VC to help set it off. Got something in the works though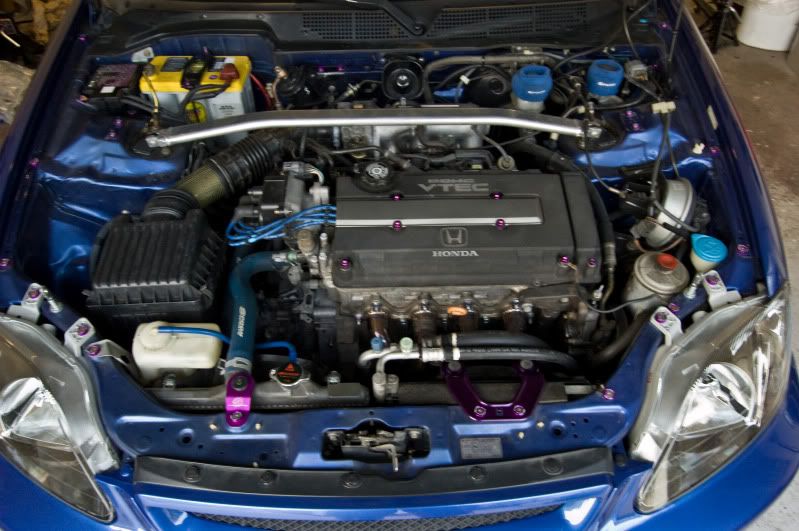 Jacked up and ready to pull the LCA's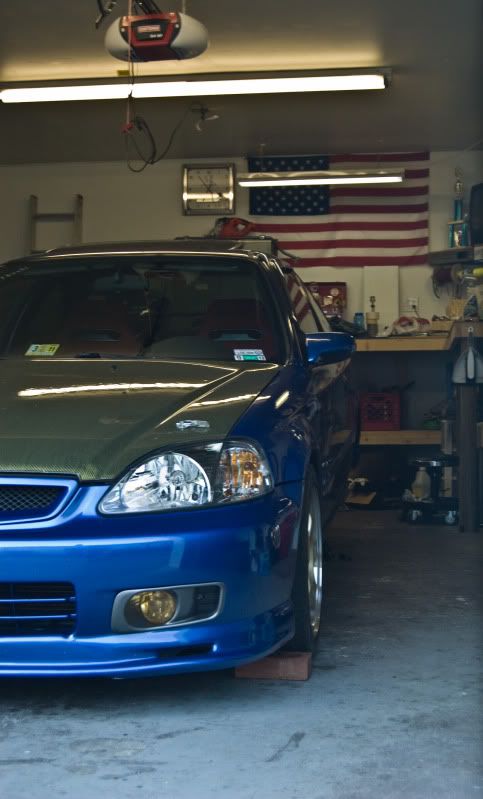 Finished...well still need the sway bar but the LCA's and ASR are in place...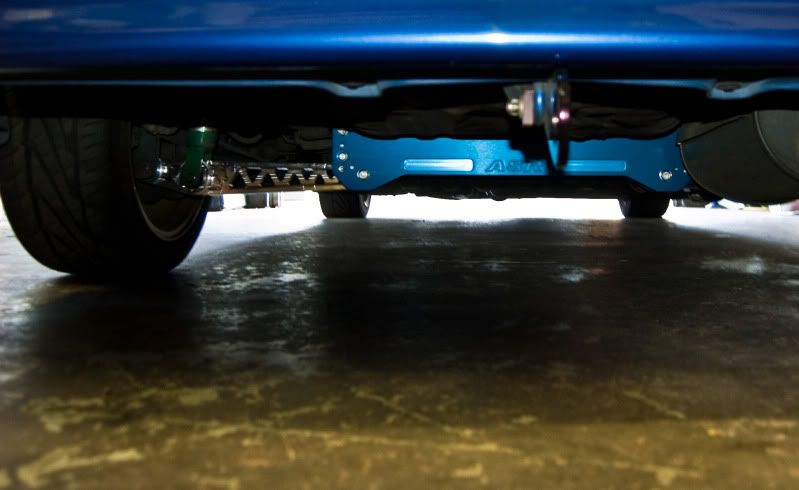 Spoon torque damper, check!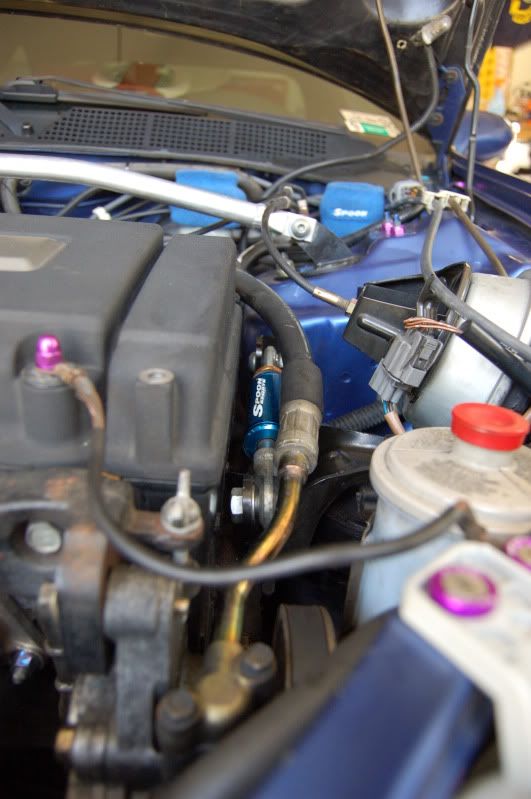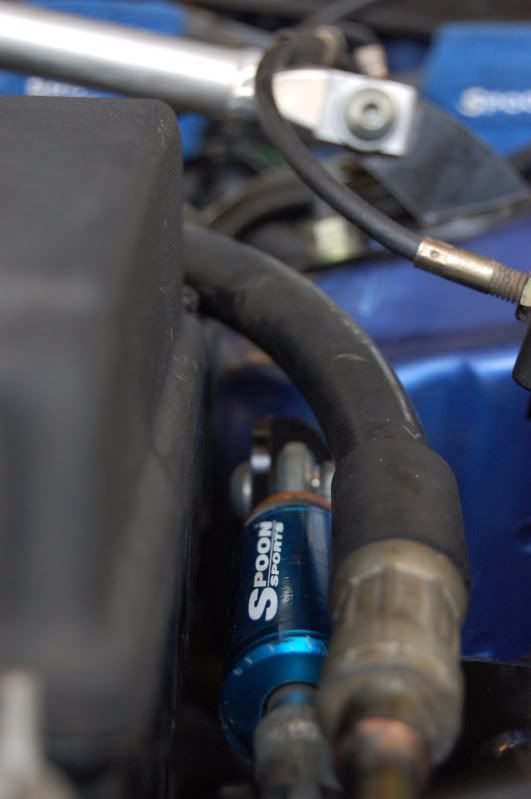 I know we have torqueless rides, but I'm a sucker for Spoon parts
Filler' up!

September 2010…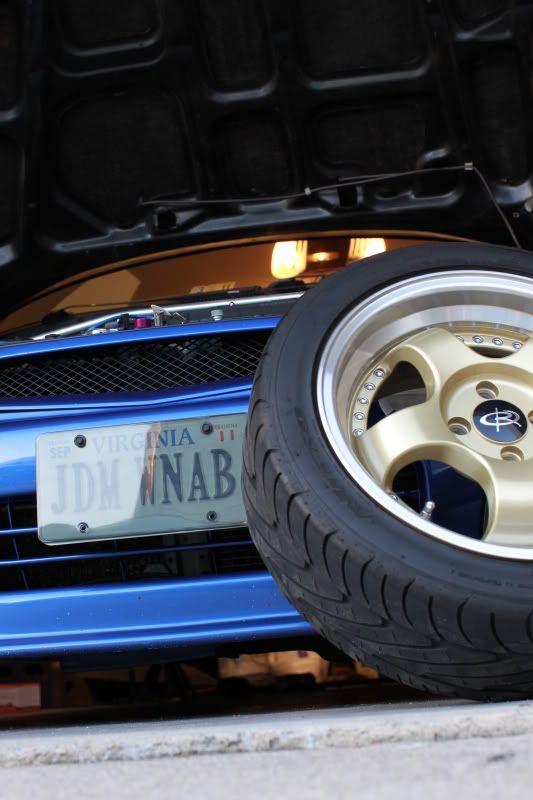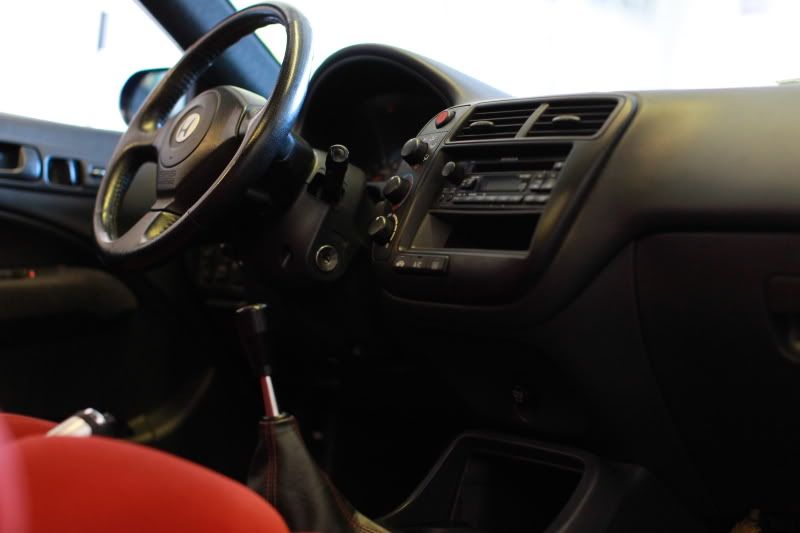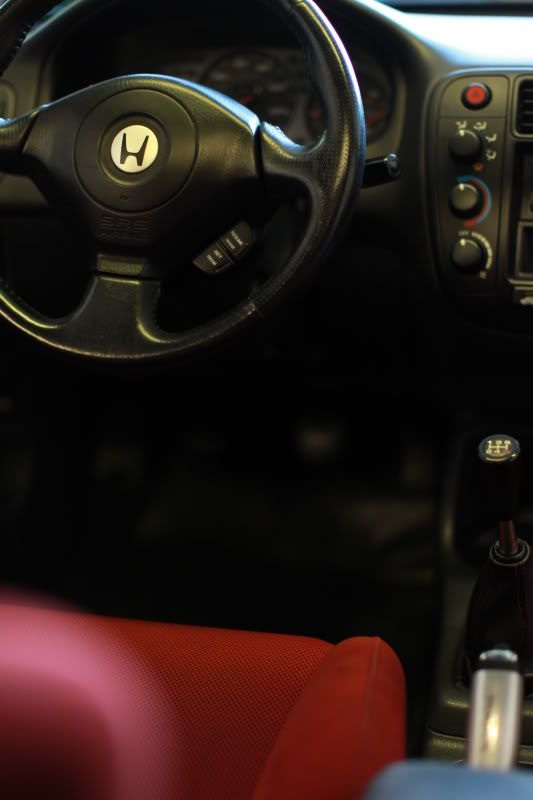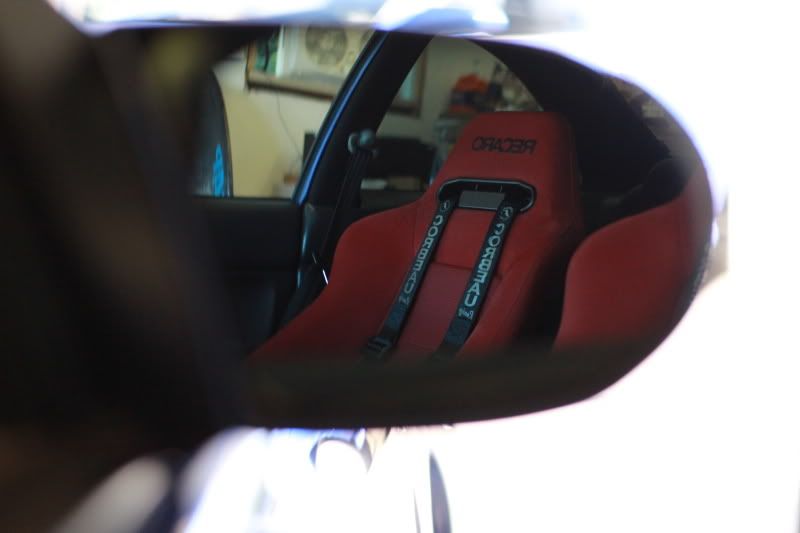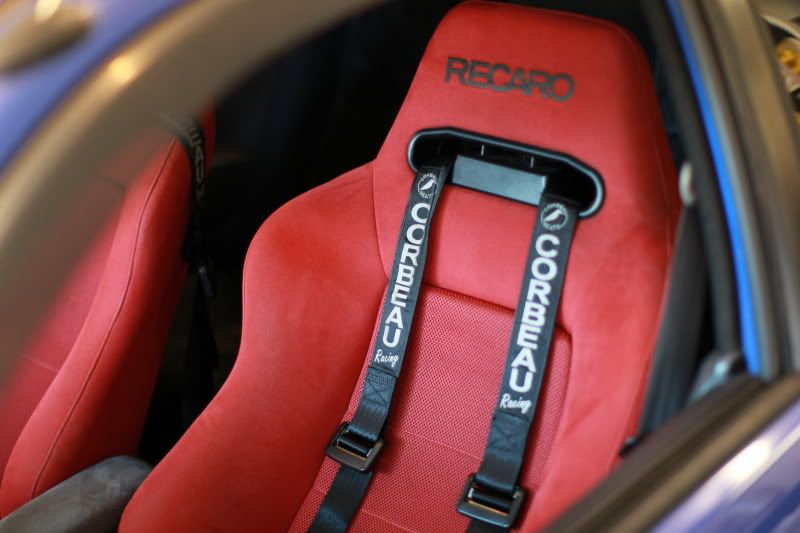 And yes, I know the Beaks is over kill...but I like it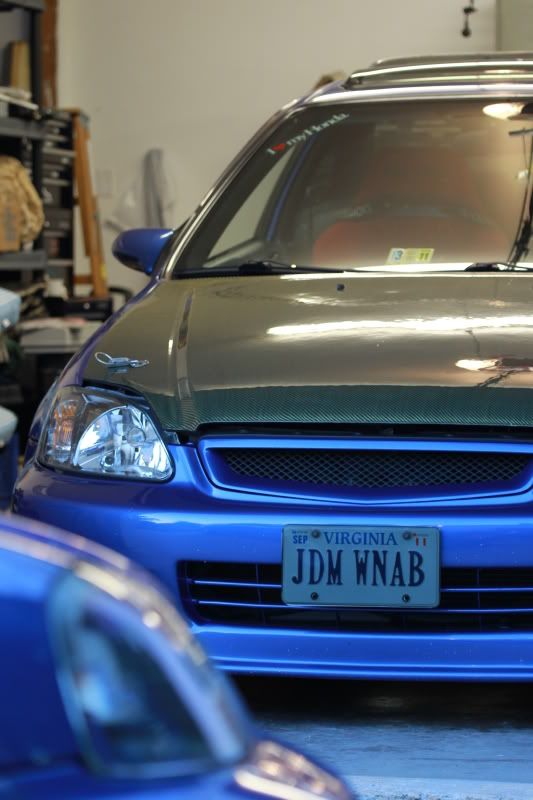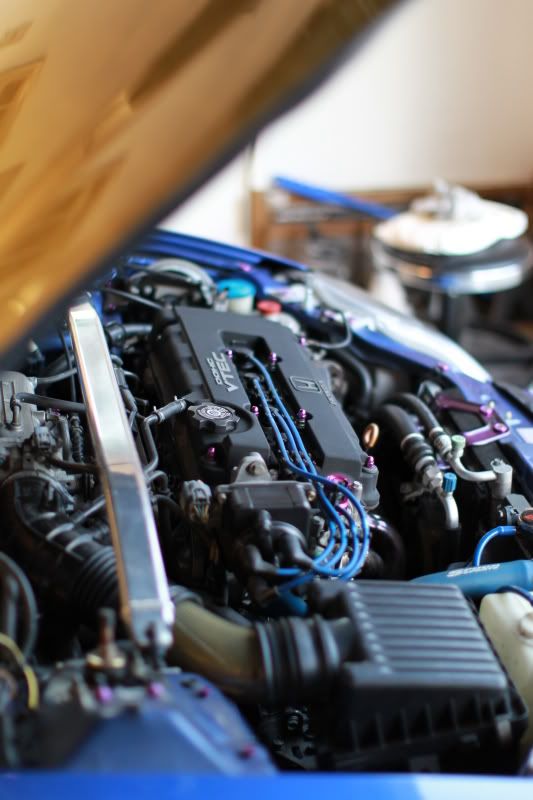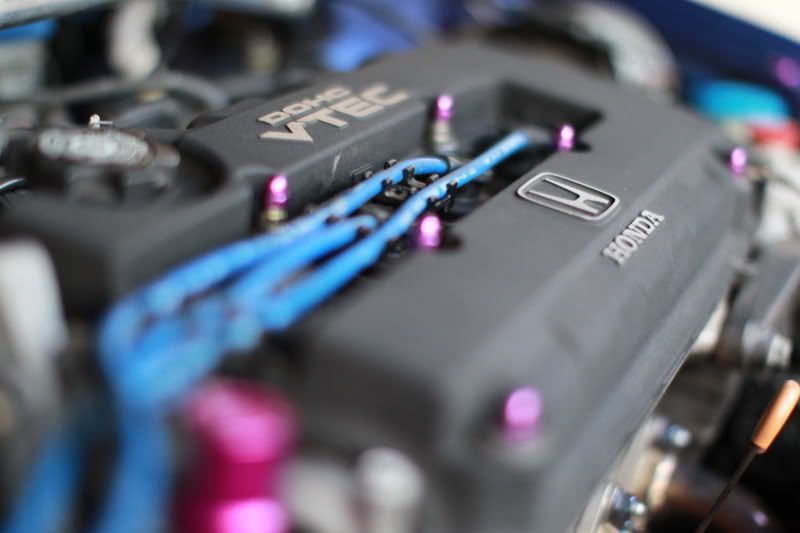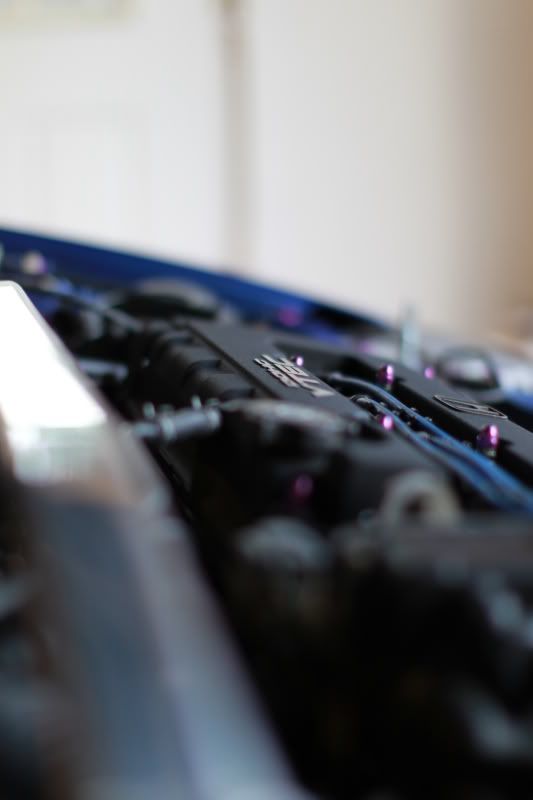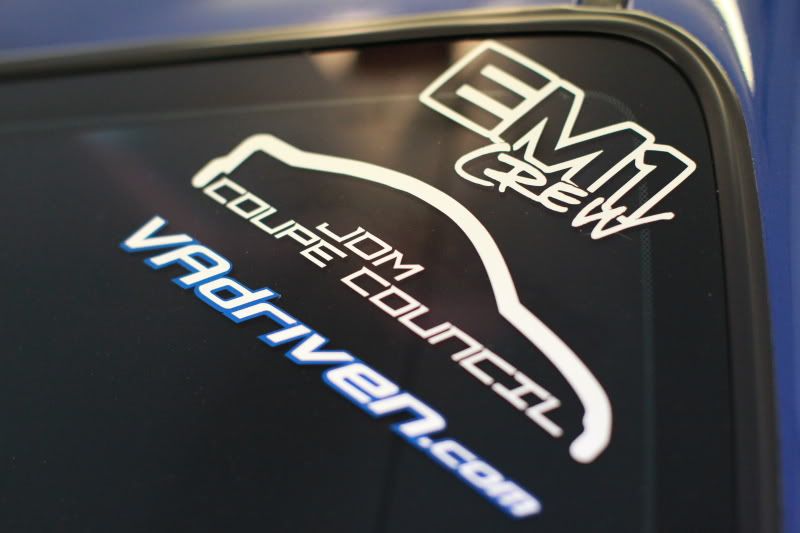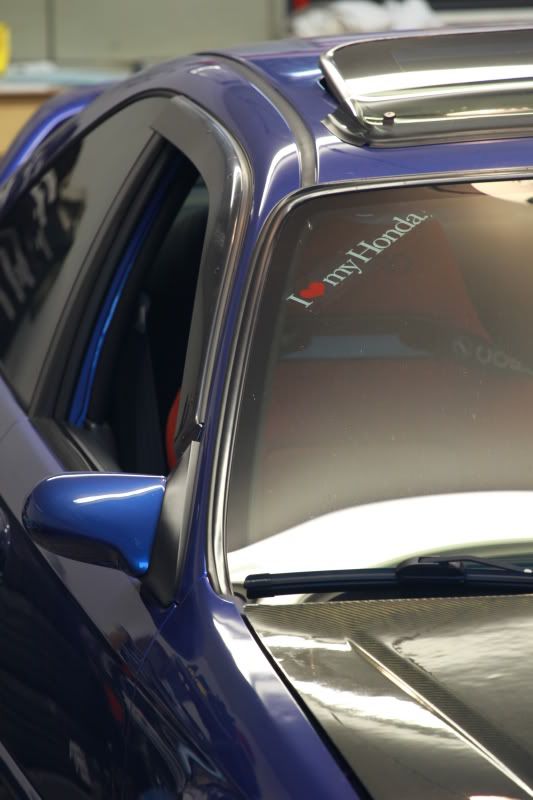 [hr]
Moved up from Rota to "legit wheels" with a set of RC Carving Starks. Got them in the usual silver w/ polished lip. They were in good shape just needed a little TLC. Had them powder coated white. Pics right after the Starks went on.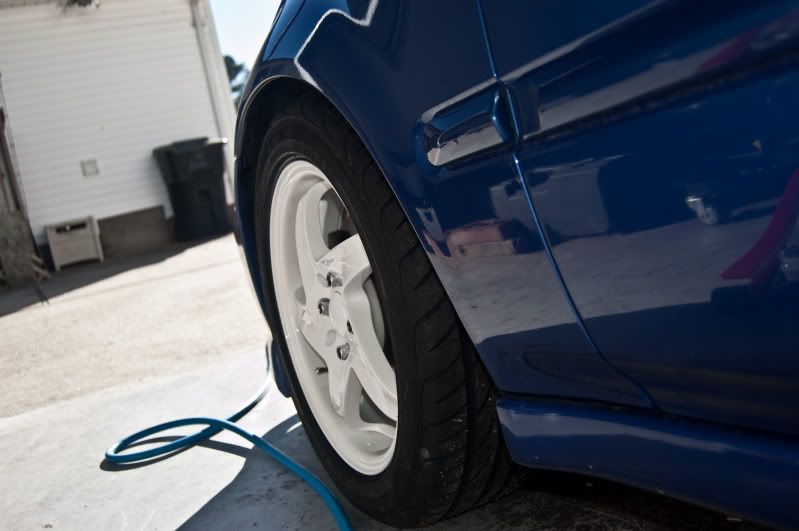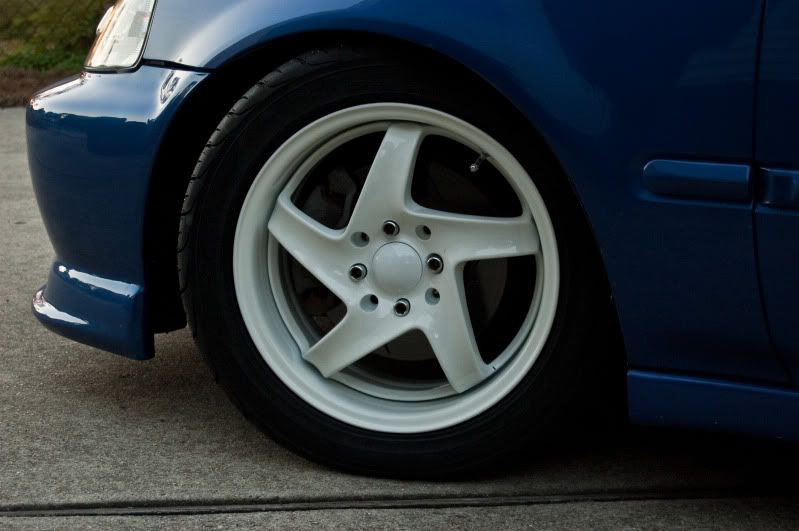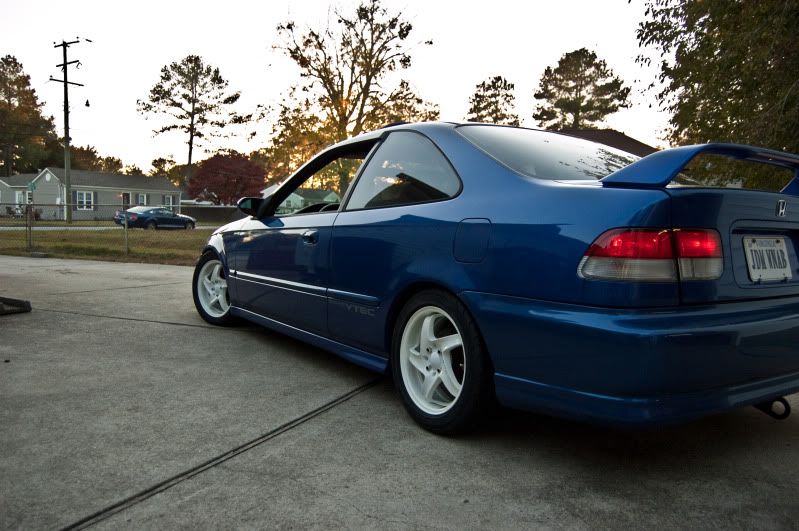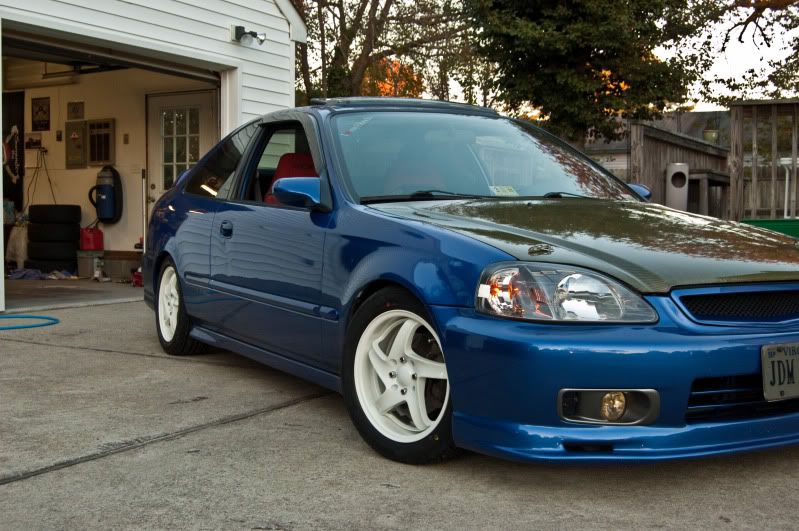 [hr]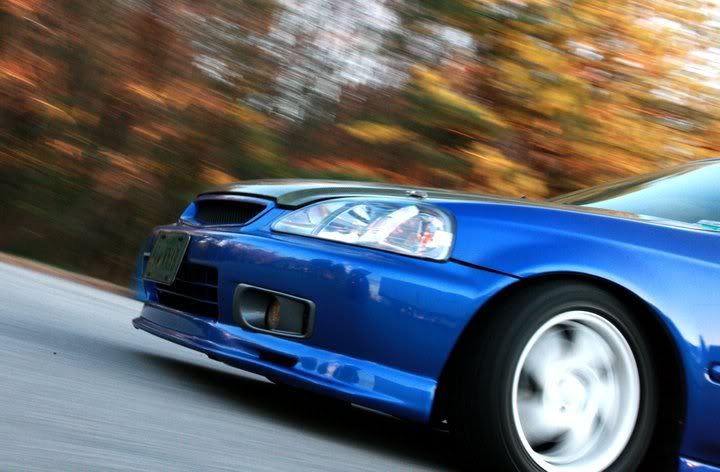 [hr]
Dec 2010...
Checked the brakes for the upcoming AutoX weekend. Front pads looked new with 70k miles on them
Driver front caliper was shot so I just replaced both fronts. Also put on the Earl's SS brake lines I bought years ago and never put on. I did replace the rear pads and also cleaned and put a coat of high temp flat black paint on all 4 calipers. Looking perddy now. Oh, and put the RC stickers on the spoke faces. Still looking to find proper placement pics for the new barrel stickers.
And a pic for fun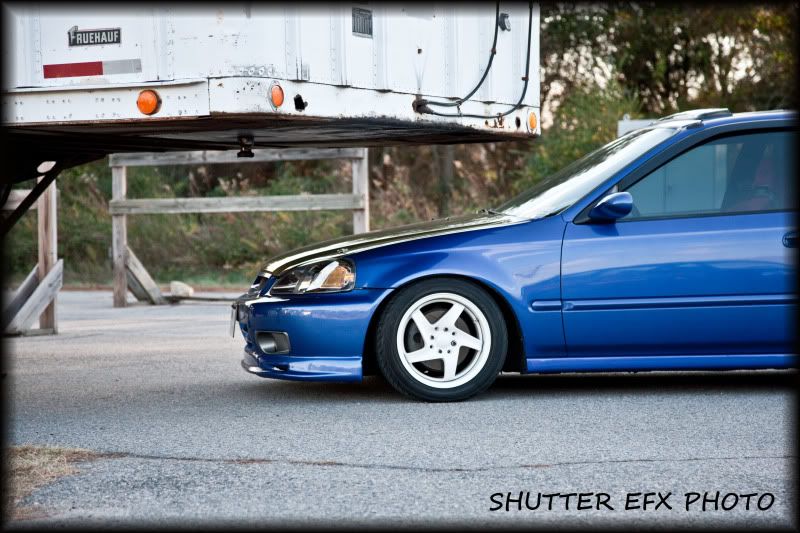 [hr]
Feb 2011...
Well I thought I would update my indash electronics. I made the step up from an OEM 1999 CD player to my old school 2000 Mini Disk player w/ 6 disk CD changer (in trunk). The MD player is JDM at its finest as I purchased it back in 2000 before moving back to the US. And what makes it great is that it was designed with the military in mind as it is in English and has US spec radio stations. When I was over there they had an International type section where you could purchase the Japanese product with kind of the big picture in mind. I ran this for a long time and it has just been sitting on a shelf. Thought I would dust it off and rock it again for a while

[hr]
Feb 2011...
Well, I want to keep the Starks proper and keep the rubber as long as possible. So since I am now doing AutoX and HPDE it was time to source some track wheels. Found a great deal on some Kosei K1's from a local guy on NASAForums. Delivered last night
15x7 w/ Toyo Proxes RA1's 225/45/15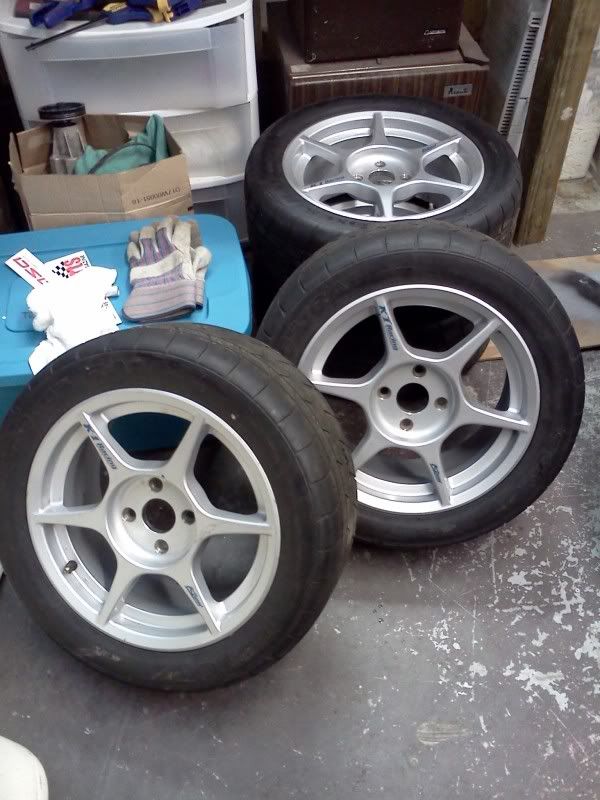 [hr]
Feb 2011...
Went down to Wilmington, NC to run an AutoX on Sunday. Placed 3rd in Novice with a time of 38.705sec. Second AutoX ever and first running with the SCCA. Good group of people down there, very much enjoyed it!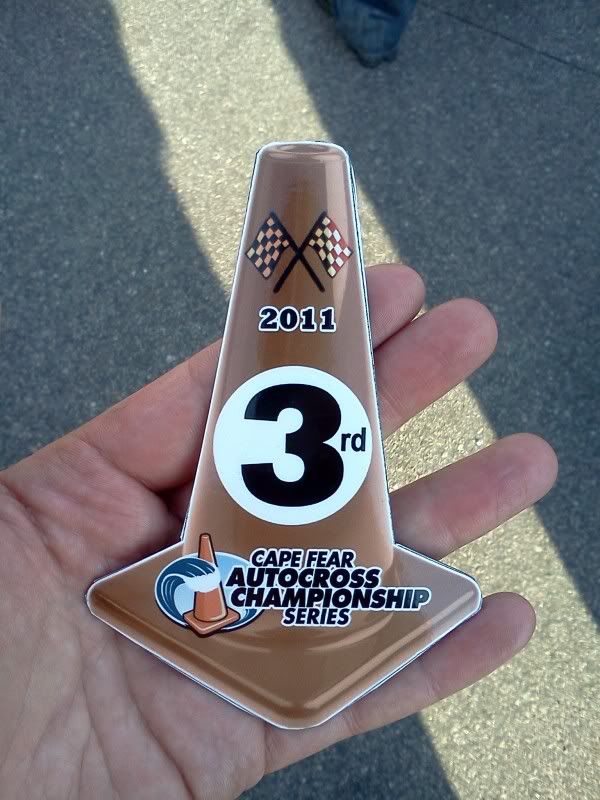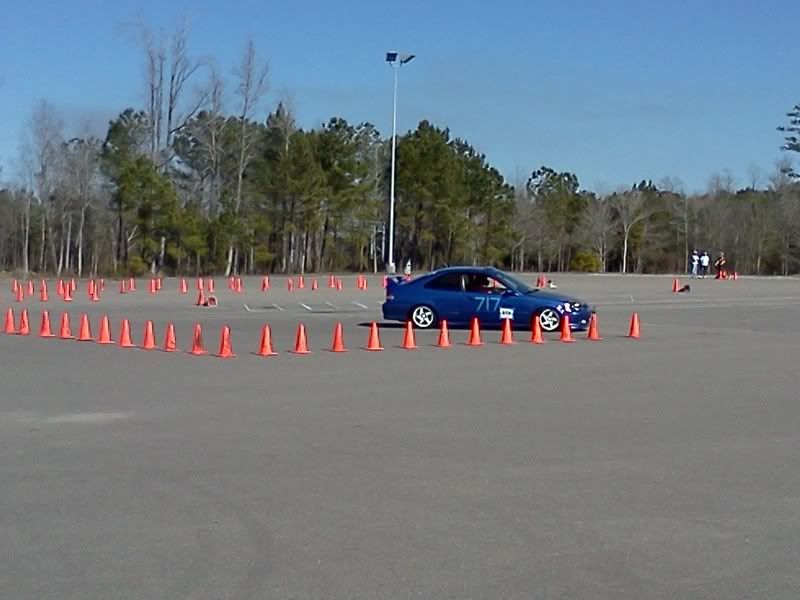 [youtube]ElBKvIBa8Gw[/youtube]
[youtube]Br9T66eanAM[/youtube]
[hr]
March 2011...
Went out with the people I AutoX/HPDE with for a drive on Sat. Here is some of the crew...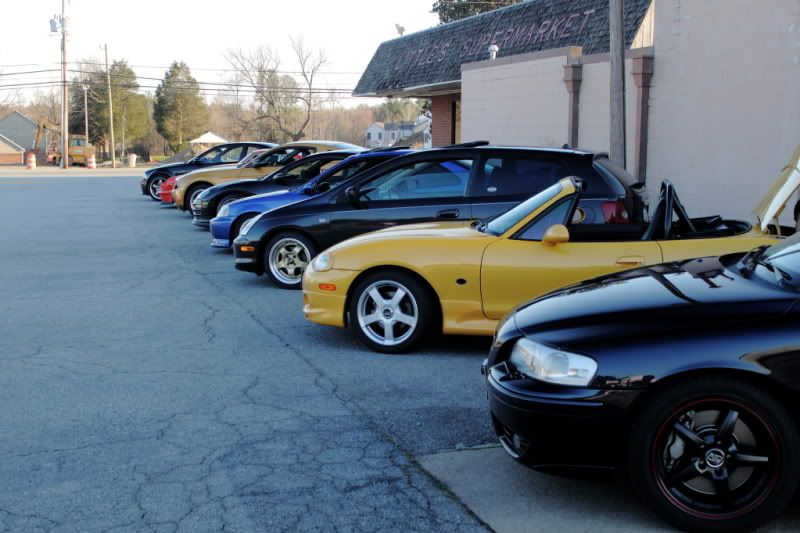 Some of my shots...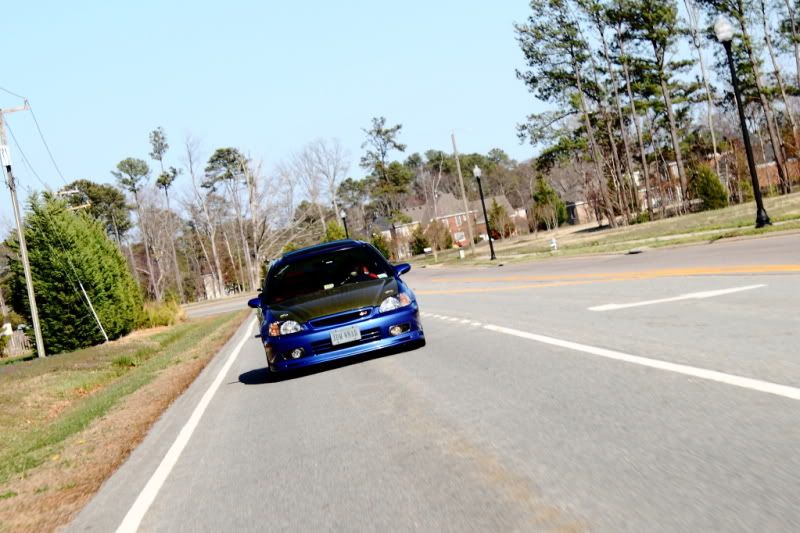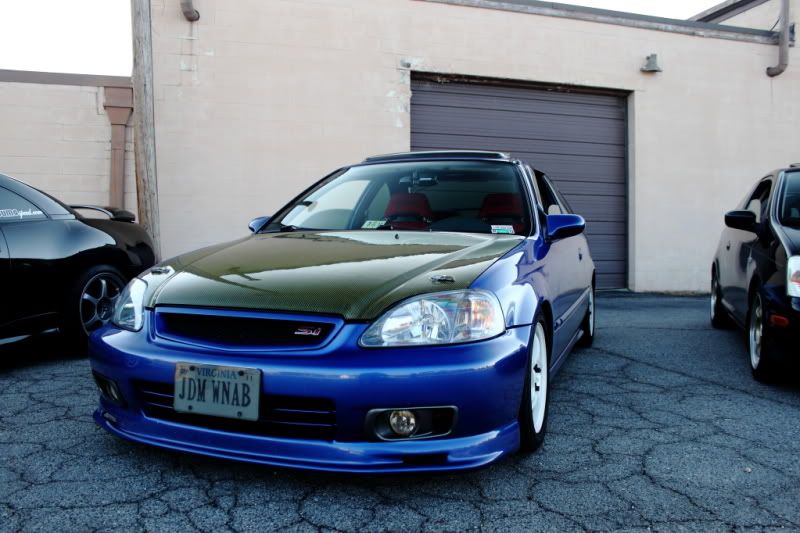 [hr]
April 2011...
Well had my first HPDE weekend this past weekend. I was at NCCAR, google that to see their site, and it is a great place to learn! I pushed the car harder than I thought it could go and learned so much about how to use the car in that environment. I had HUGE improvement from my first lap on my first session to my last of my last session on Sunday. My instructor after the first day said my driving was night and day. Sunday we worked at getting more aggressive and finding more in the car. I was tearing up the S2000's in HPDE 1 with me and I ate a 350Z several times. And we had a GT-R that was in HPDE 2 on Saturday get bumped down for Sunday to DE 1 and yeah I ate him too...lol. He was def scared of his car...lol. I out ran lots of cars that you wouldnt think possible. I know a lot of it comes down to driver and them not pushing the car as hard for whatever reason. But I built mine to push!
On my last lap of my final session coming out of turn 4 I heard a back fire sound and shortly after it didnt feel right. At turn 13 (final turn) I knew something was way off. We got the checker for our cool down lap and at about 3k rpm I was hearing a blow by type sound. Sounded like an exhaust leak. We get it back and let it cool down because idle and everything was fine. Only at 3k up was it weird. Turns out I pretty much torched my cat and it plugged up causing me to blow my gasket at the header/cat. So, Sunday I ran open header and tore it up all day! I then had to drive the 1.5hrs home with an open header...lol. DEAF!!!...lol.
Here are a couple pics for now. Maybe have some more a little later
Coming down the front straight at about 110mph. By the last couple sessions on Sunday I had a sweet line coming out of the turns before it and was able to get 120mph near the end and bang rev limiter. There was no reason to up shift as the front straight comes up to a hairpin turn. And I was getting close enough to the brake zone that it was safer to just ride it out than take more and dig the brakes even harder.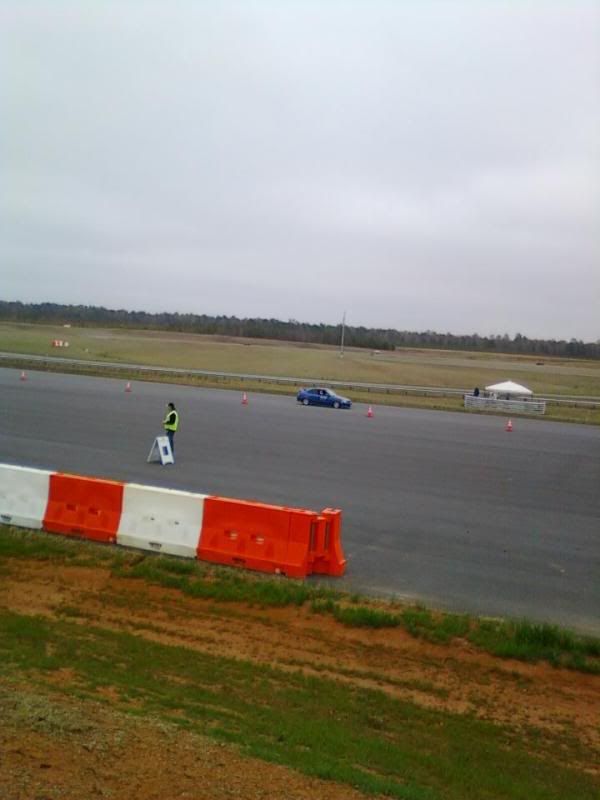 Toyo Proxes RA1
Before (Stock photo)...

After two days and about 210mi on track...Oh, and that torn up side is not from inner camber because thats the outside of the tire
And a short clip of me heading home on the open header...lol
<iframe title="YouTube video player" width="480" height="390" src="http://www.youtube.com/embed/gJ82VcHzm5c" frameborder="0" allowfullscreen></iframe>
[hr]
April 2011...
And a couple pics from this evening...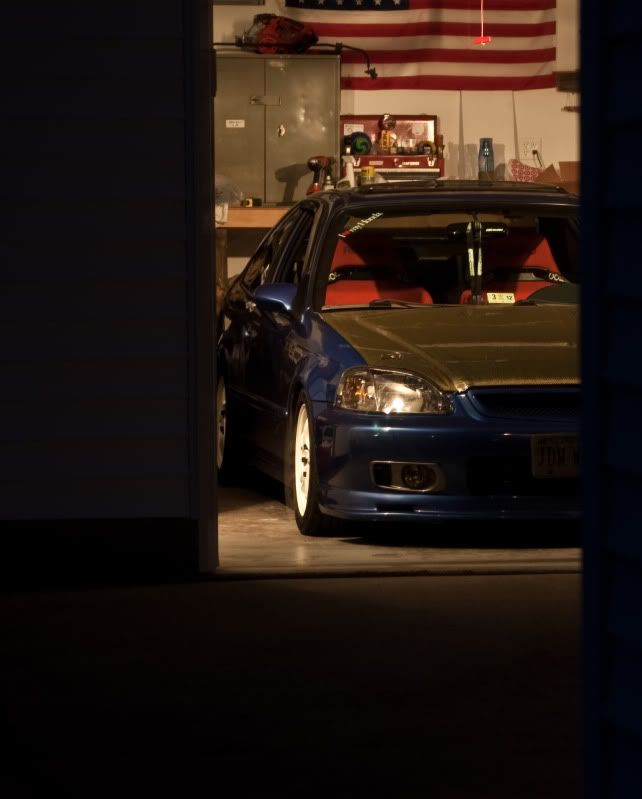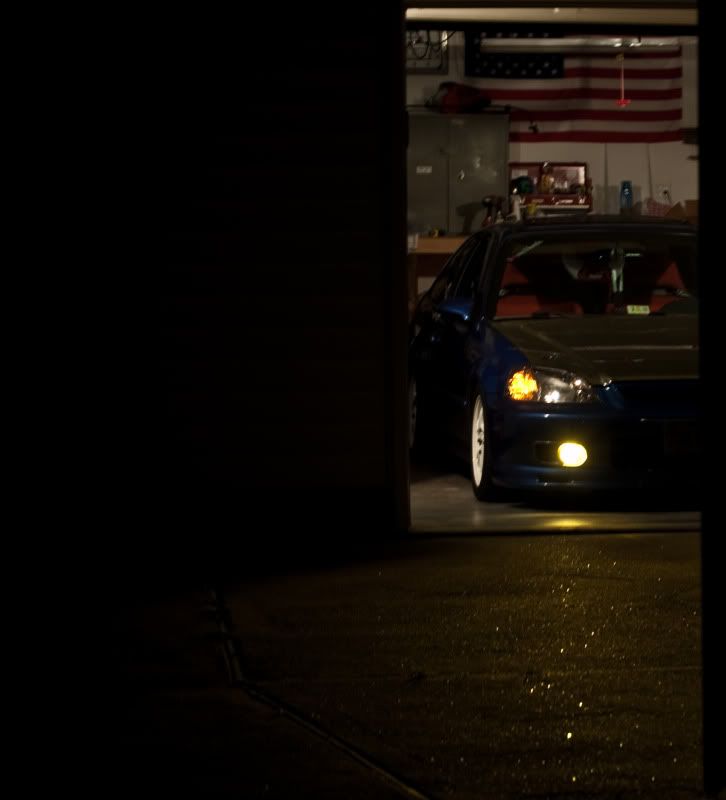 O-E-M Fressssshhhhhhhh...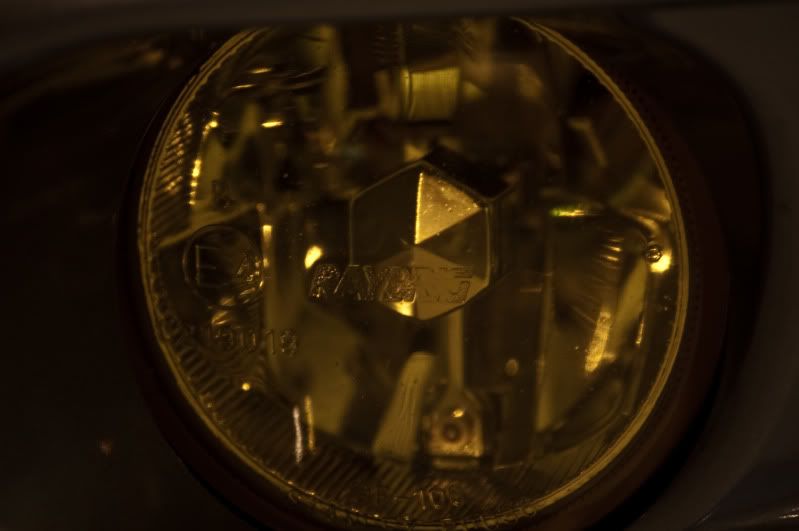 [hr]
April 2011...
Cool it!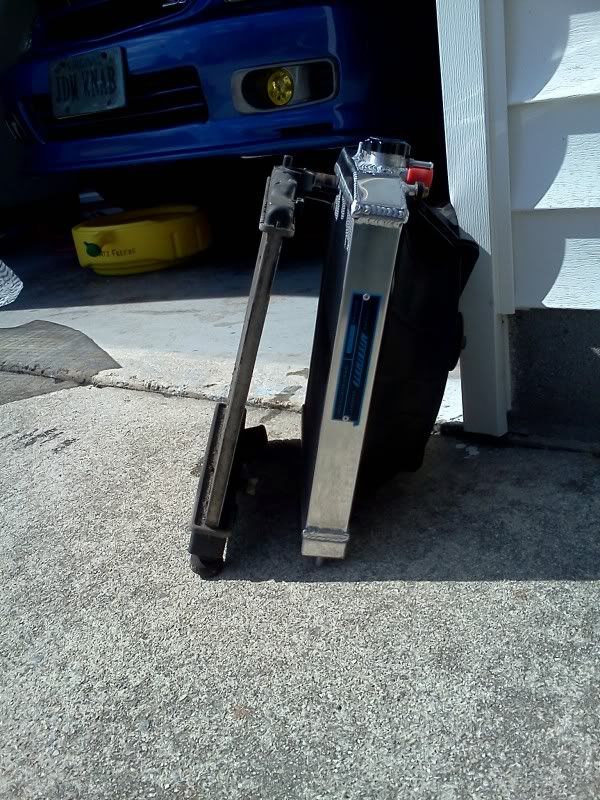 Fill up shot this AM as the sun was coming up. Just thought it was kinda cool for a cell pic.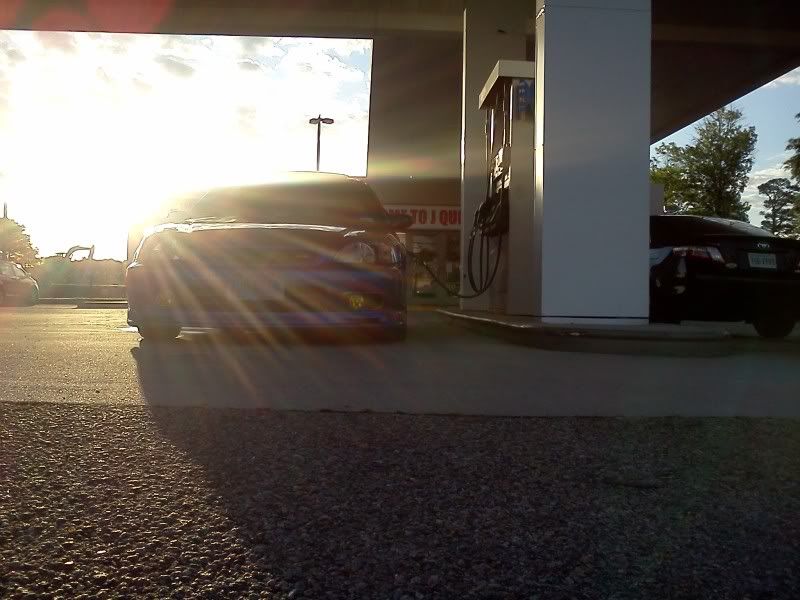 [hr]
June 2011...
Thought I would go ahead and try one of the two after market exhausts I'm willing to put on my car...
Spoon Gen 1 Street muffler...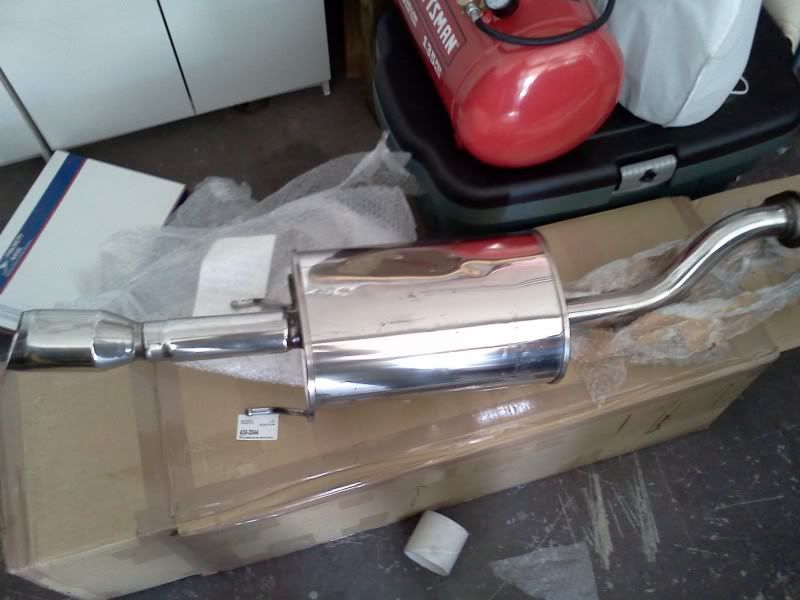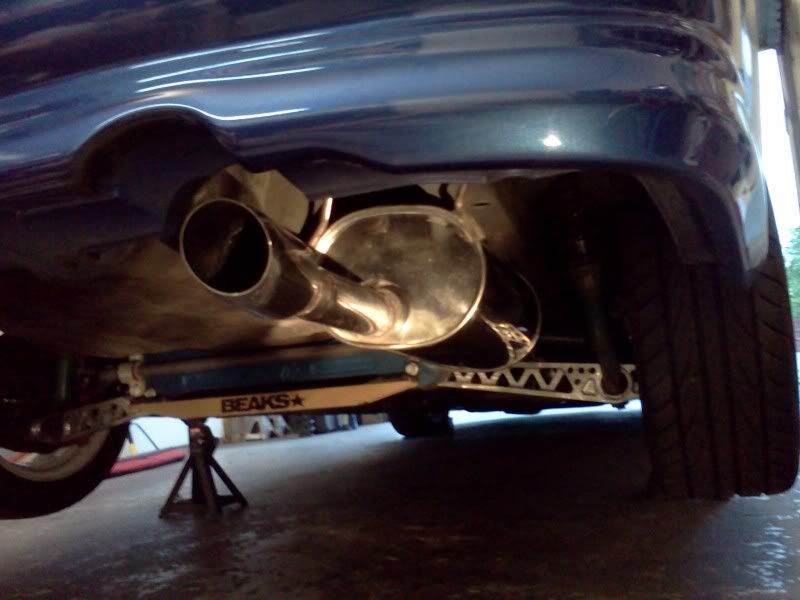 [hr]
Sept 2011...
"Official update" of the wheel change and random pics that have already been posted...lol.
16x7 +42, Work RSZ-R's. Found this set BNIB...some say the last known set never mounted...who knows though...lol. Rubber is 215/45/16 Bridgestone Potenza RE-11...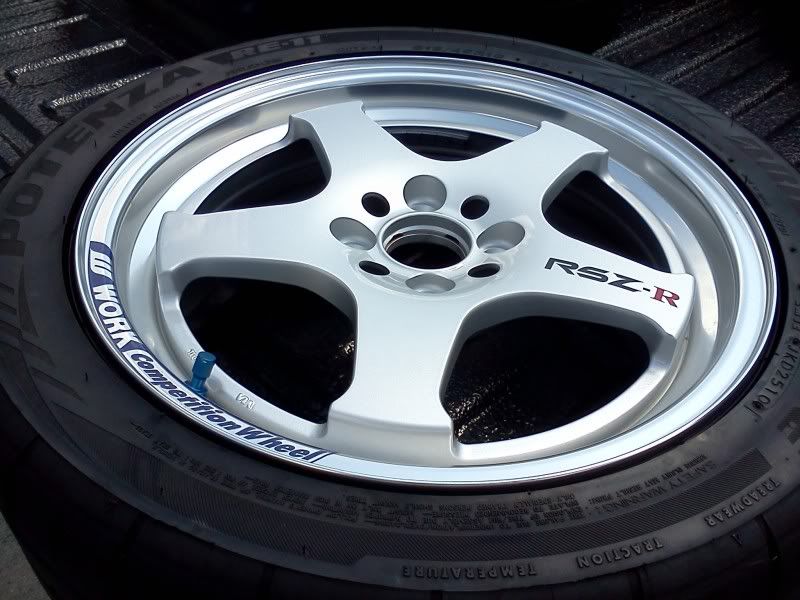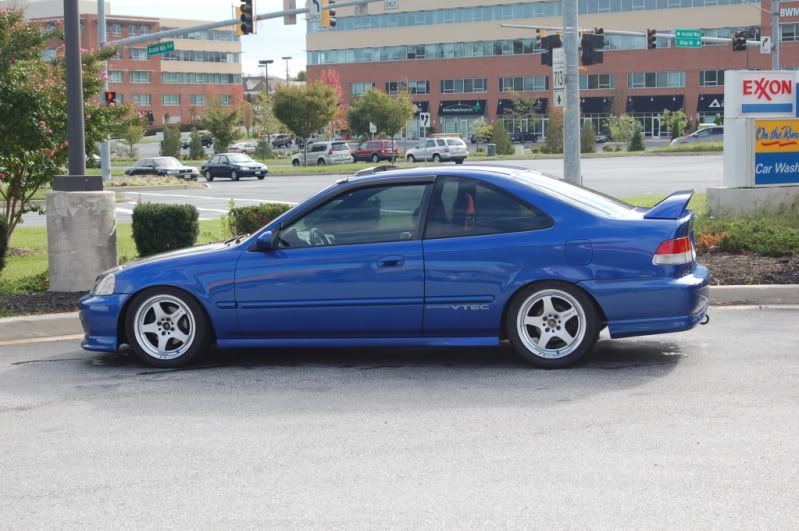 Couple of the latest AutoX pics...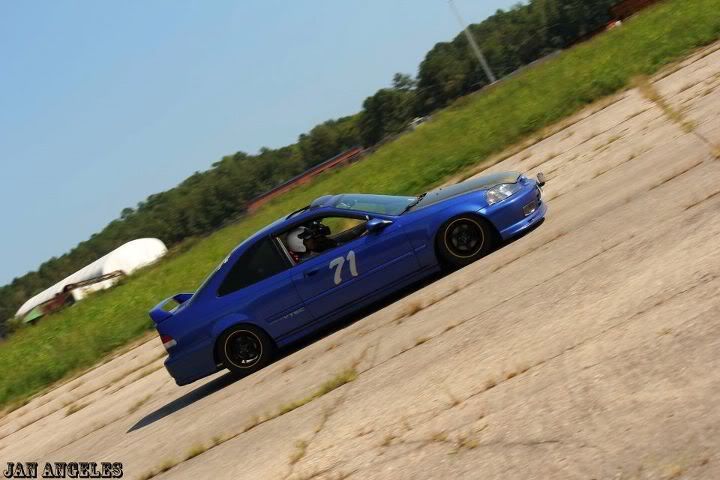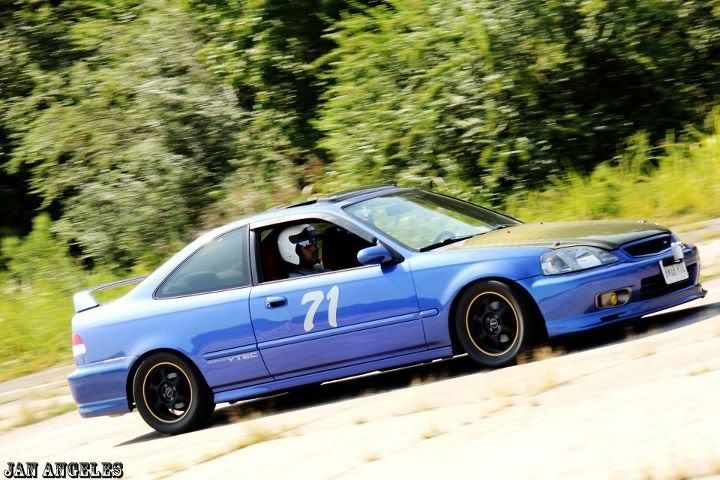 And the latest Spoonaholic purchase, Authentic Spoon racing team jacket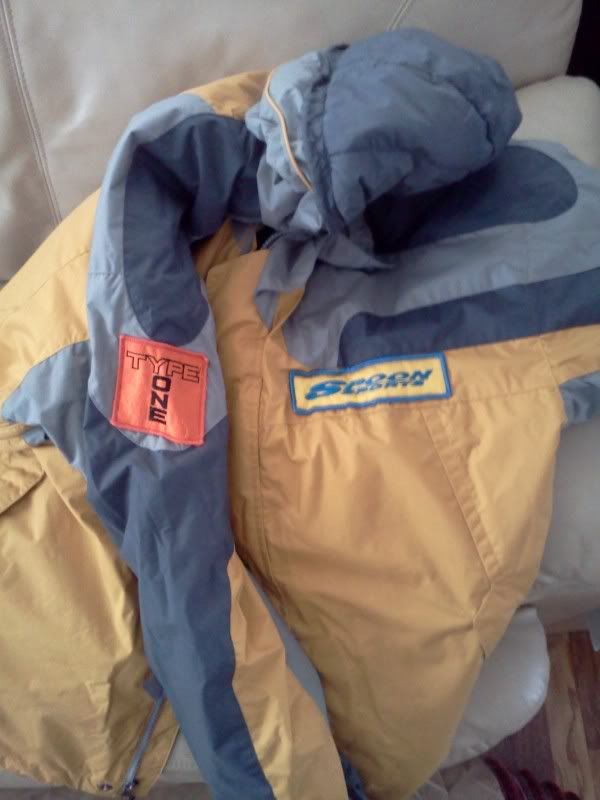 [hr]
Oct 2011
Dragon run
http://www.youtube.com/watch?v=pP475zkoMPo
Spoon! Yeah, we all know I'm a Spoonahaulic...lol.
B Series Spoon VC signed as well as a S2000 Spoon VC signed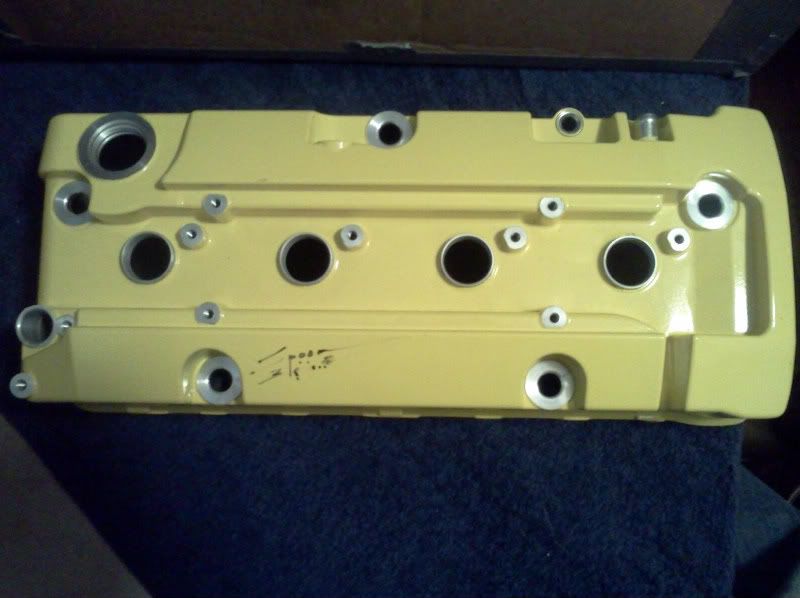 [hr]
Nov 2011...
Our team hosted a time attack type event at NCCAR the past weekend, one of my runs

[youtube]lBB8Zx2b8nI[/youtube]
[hr]
Dec 2011...
Well, the car is off the road until sometime next year. One of the Tein's started leaking this year and my trans has been crapping out. After about 8yrs, 80k miles and 1 race season I'm shipping the shock sections back to Tein for a full overhaul. Minty fresh for next year. Trans wont go in first a lot of the time, 2nd has issues going in from 1 sometimes and all the time from 3-2. Grinds at higer revs into 3-5 and R can be a pain to get in as well...lol. I bought the trans being told it was in good shape but really it didnt matter since it had the Spoon LSD in it. As long as that was working proper I made out like a bandit, and it works just fine So, my original trans will get an overhaul and the Spoon dif put in for a nice fresh trans for the new year also.
Yesterday the car was put up on stands and the tear down began. Of course the wheels were first to come off and I pulled the front coilovers, cat and mid-pipe are down and trans as well. Trans goes under the knife this week and I should have the rear coils off tonight. Pull the springs off and pack up the shocks and off they go.
There are a few things I know will happen but a few that are up in the air. Pics to come on how the car looks and what is going on

[hr]
Dec 2011...
Wheels up

Trans out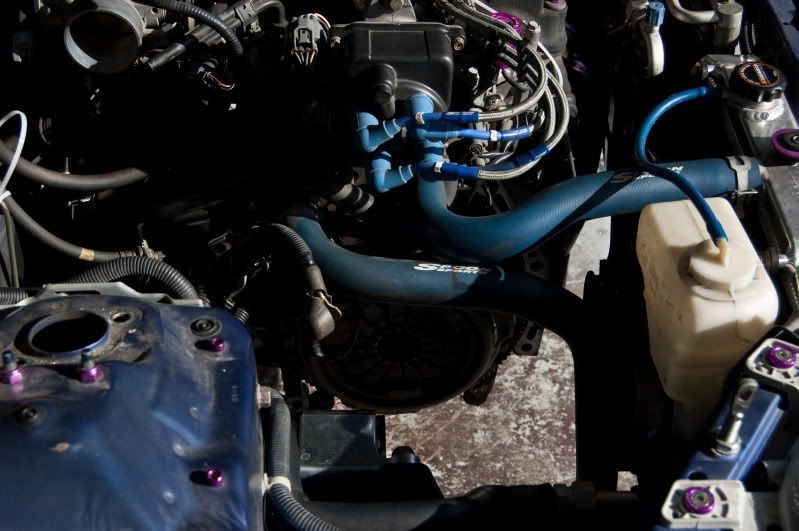 Suspension out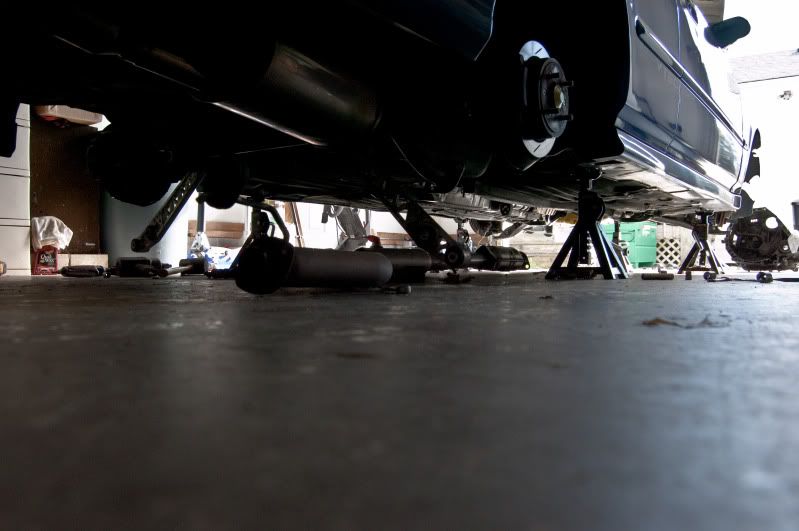 Taken apart, shock assy's ready for ship and all parts ready for storage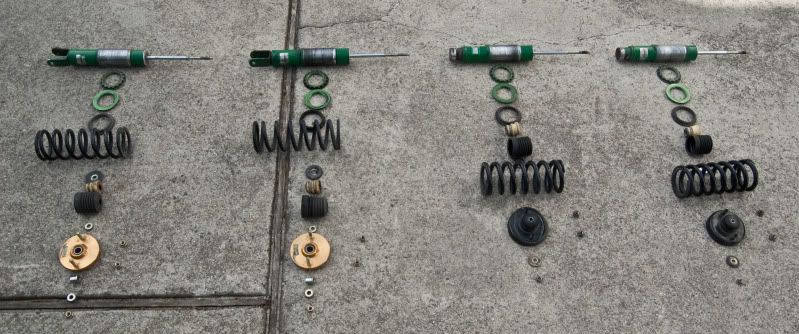 Stuff to be done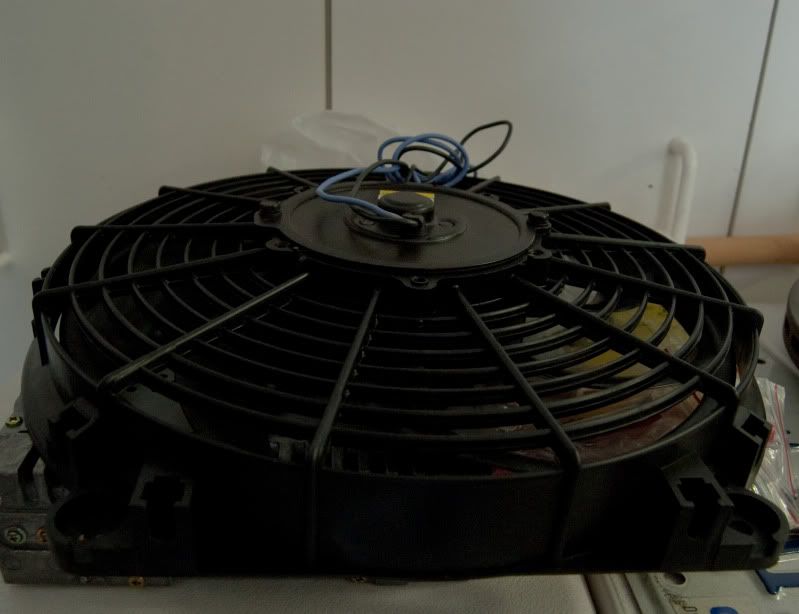 [hr]
Jan 2012...
Well, last weekend the UR flywheel went on and I wired/installed the slim fan. Plan on dropping the header in and a couple other things on Sunday. Nagger dropped off the trans last night, fresh from getting new GearSpeed SS+ synchros, cleaned, inspected dif changed over and back together. Now I will again have my OEM VIN matching trans in the car after having the junked trans w/ dope dif...lol. Also I put in a decent order with a friend for some stuff from Honda. On the way will be...
- New tierod ends
- Pass tierod dust boot and new clips
- Axel oil seals
- Wheel bearings
- Trans dowel pins
- Clutch fork boot
- Washer fluid hose clip on shock tower
[hr]
Jan 2012...
KiddRacing header in place...stack of OEM parts in...


[hr]
Feb 2012
HardRace came in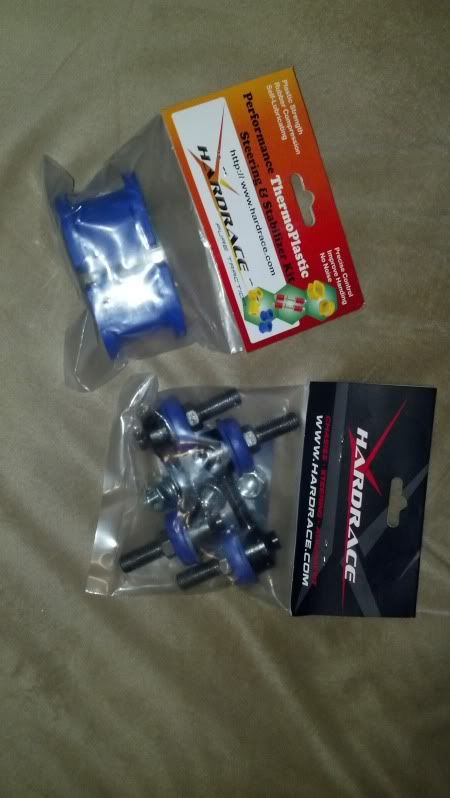 Spare mounted

[hr]
Feb 2012...
New wheel bearings and ARP extended studs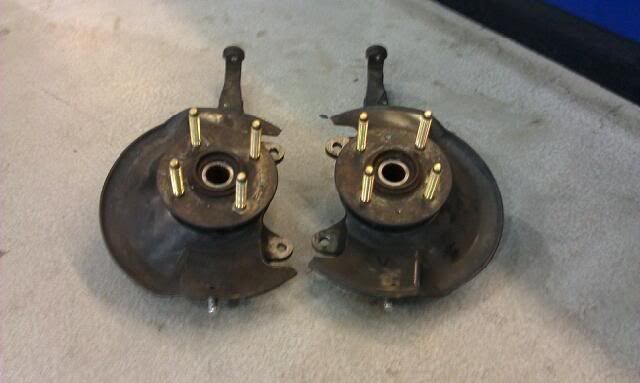 [hr]
Feb 2012...
Tein came home today
In the box are the fully rebuilt dampers, new spring seats and front pillow ball mounts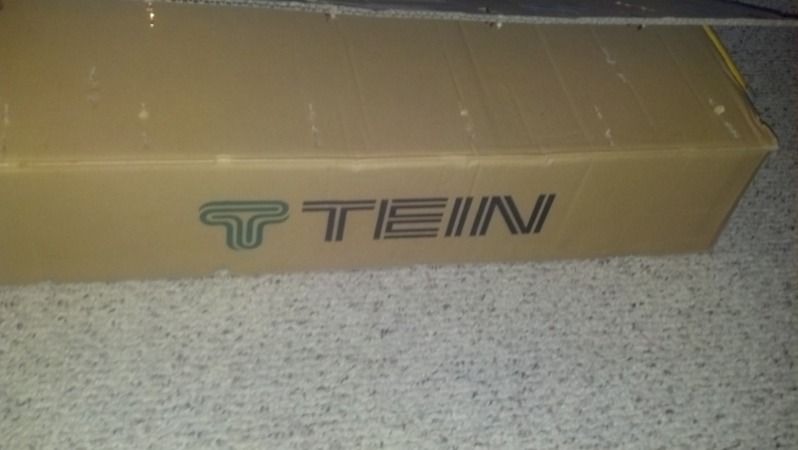 [hr]
March 2012...
Well it was a very good day today. Trans is back in and passenger side it back together. Driver side had a delay due to AutoZone not having my axel in stock for the warrenty exchange. It will be in tomorrow so I hope to get it all back in here very soon. I would think that if I do not get a chance this week, next weekend the car will be on the ground again.
Few shots of it coming back together...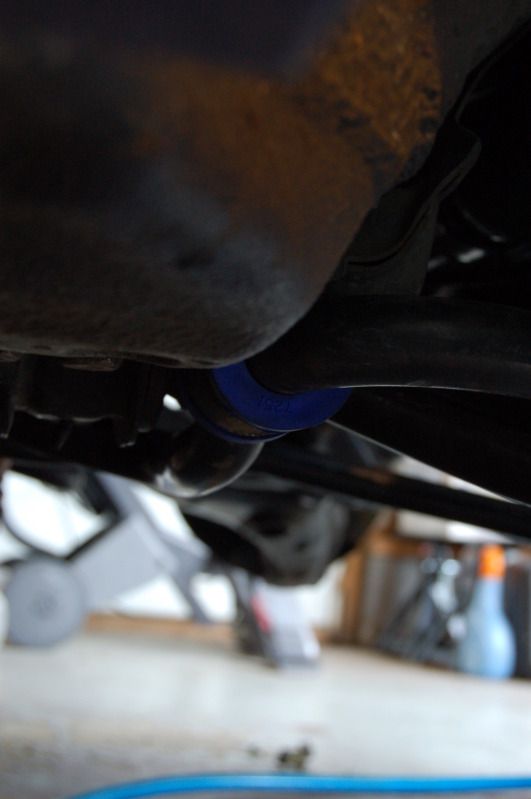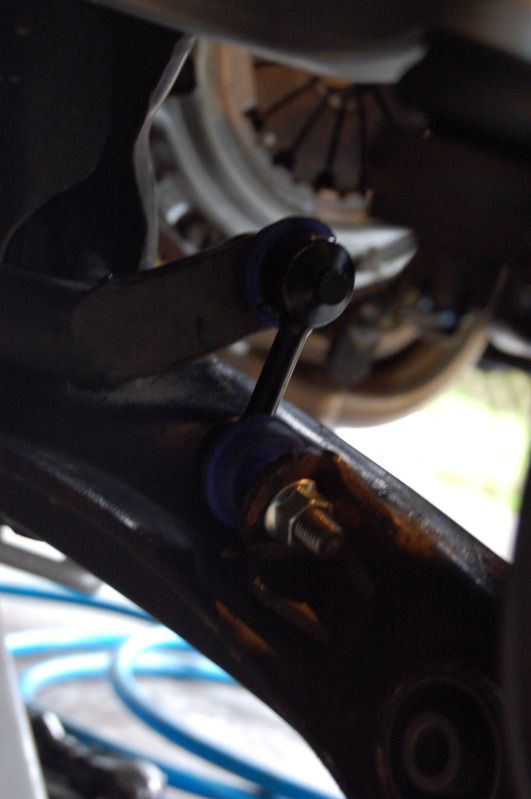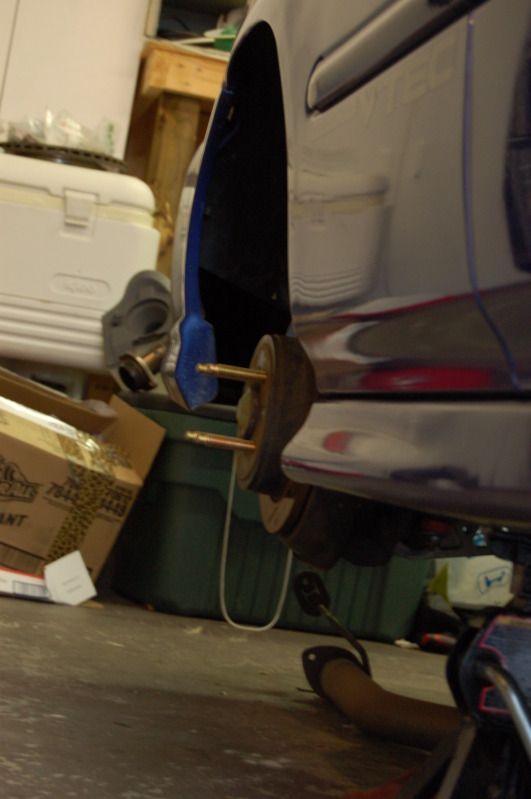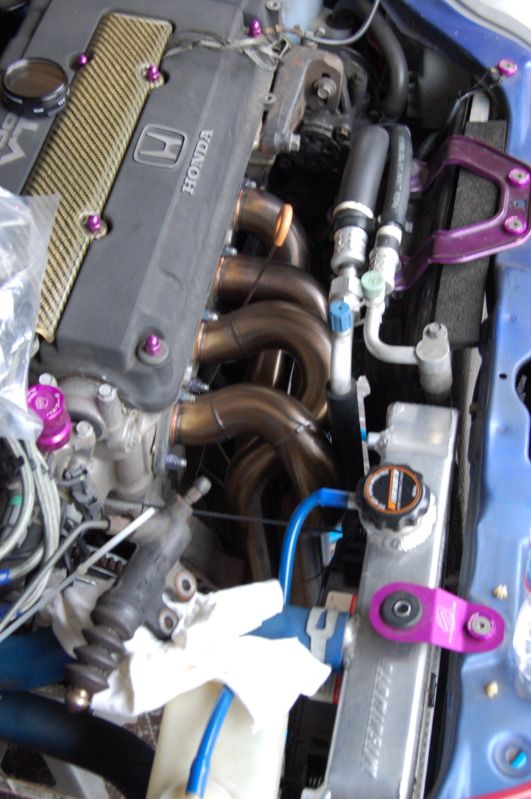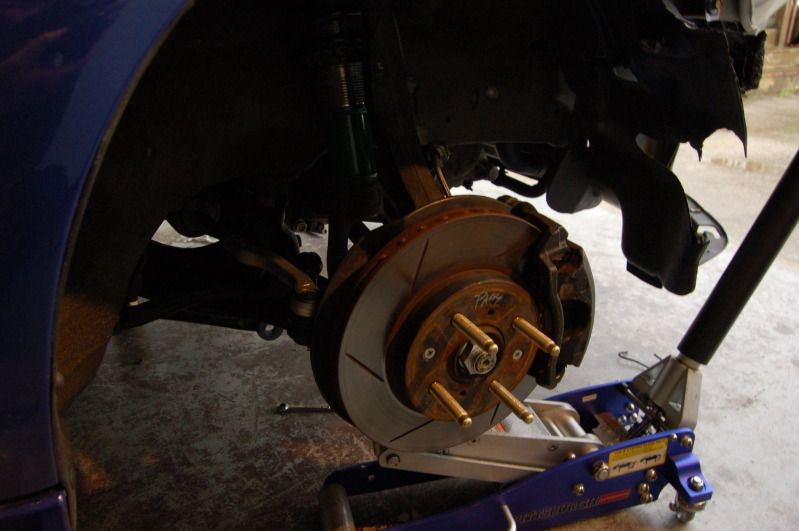 [hr]
March 2012...
Cables for EDFC are in and controller mounted in the cluster. Test run was good to go! Penlight shift light mounted to the side of the EDFC controller and wired. Rear Spoon tower bar in and rear carpet cut out. Exhaust together and good to go. Track wheels are on the car and.....
BOOM!!!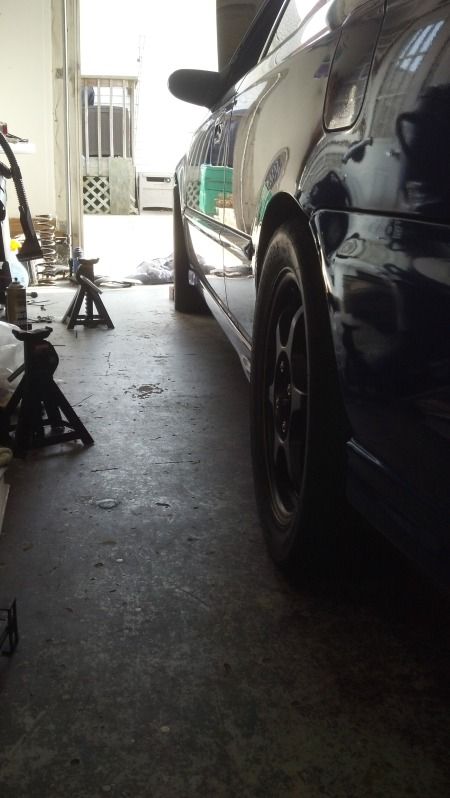 On the ground! Letting it settle some and then the ride height will be set at track wheel functional.
[hr]
March 2012...
Bumper back on and driven for the first time since Dec 22!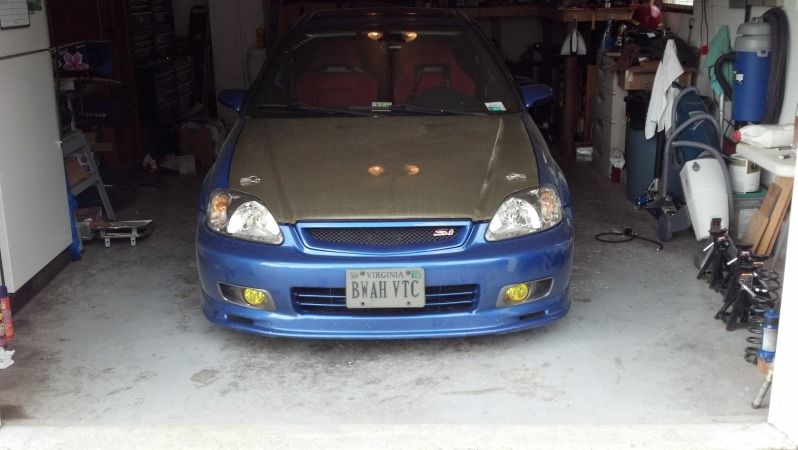 [hr]
March 2012...
First bath in 4 months. LOVE it being back on the road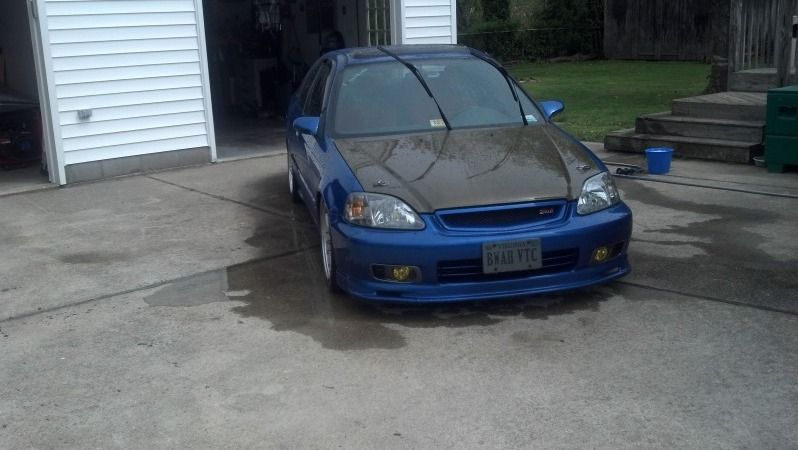 Loaded up for the track tomorrow
)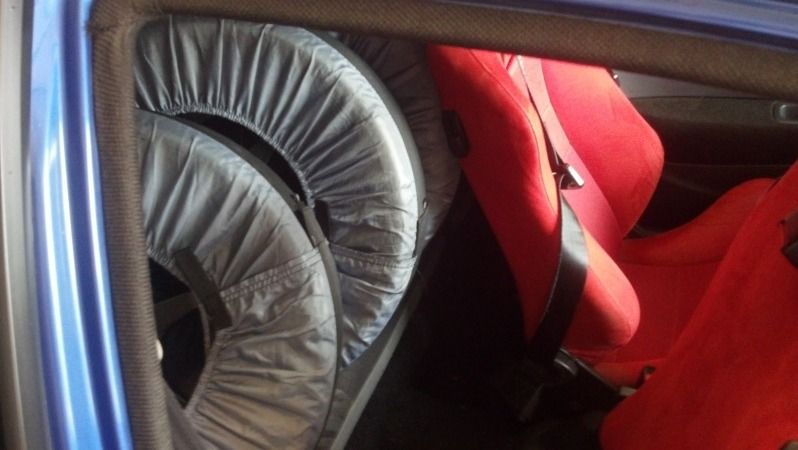 DOOK washed out cell pic of the new audio area
Real photos soon enough.


[hr]
April 2012...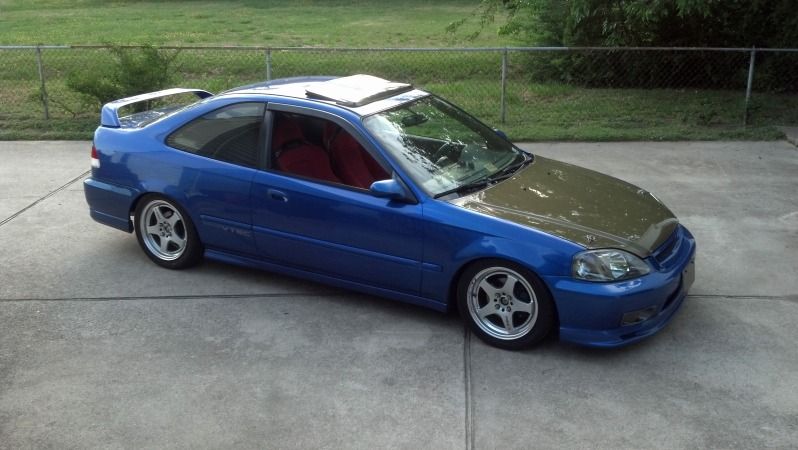 [hr]
April 2012...
First race back!...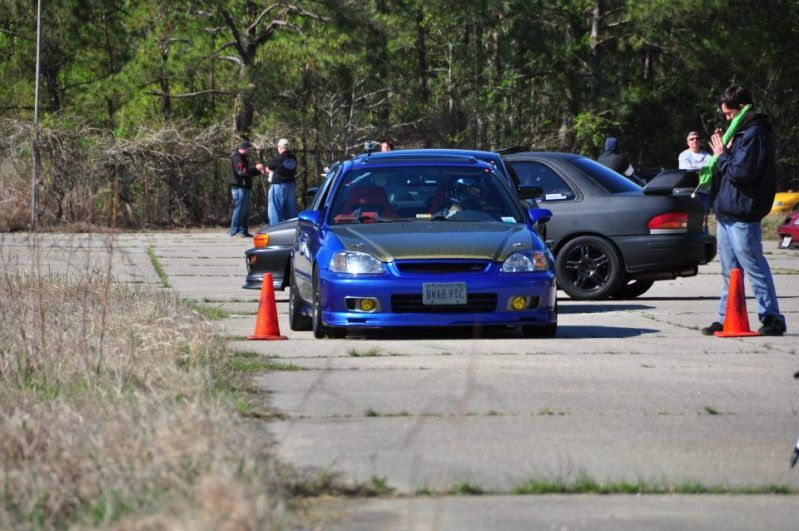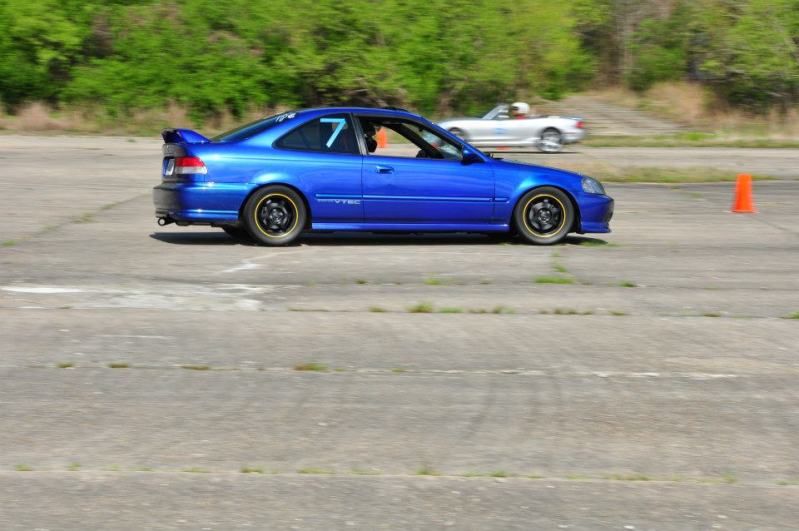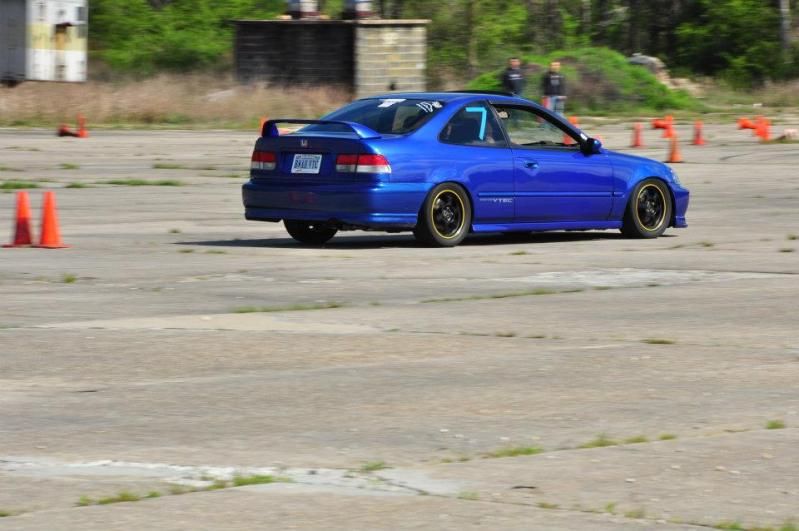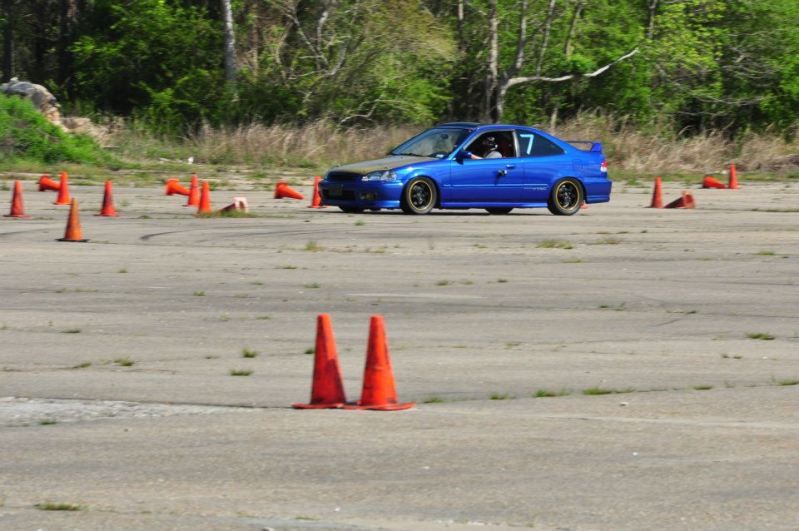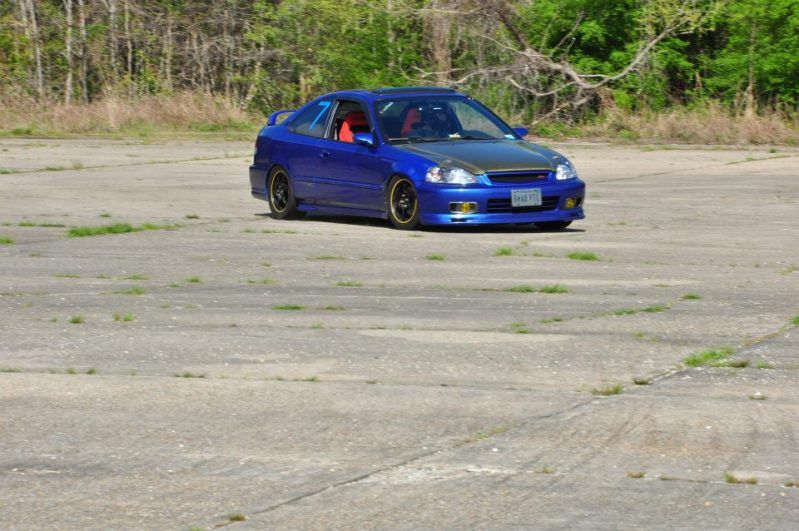 [hr]
And a few more :vtec: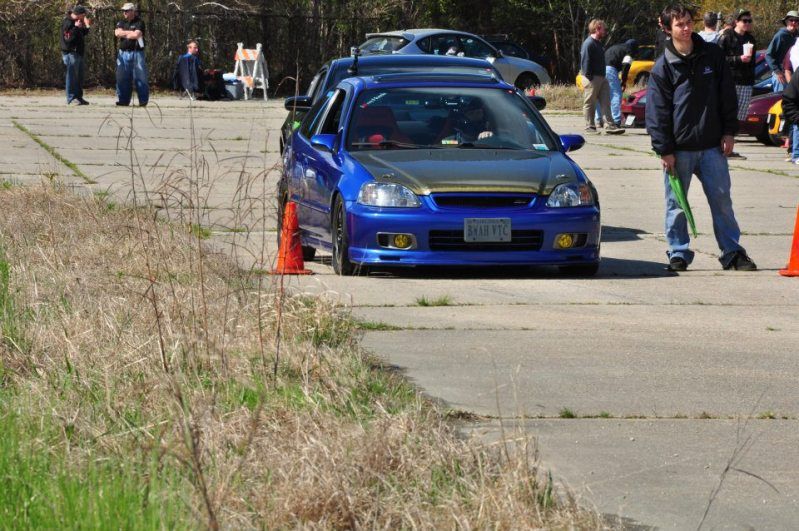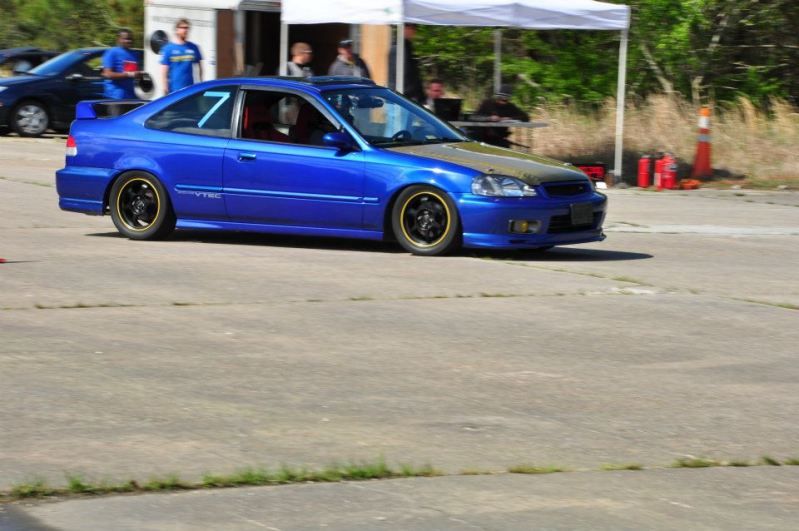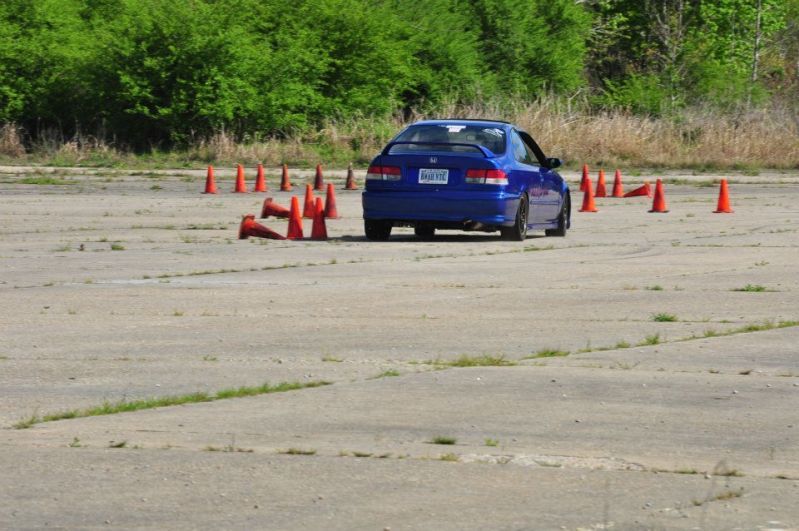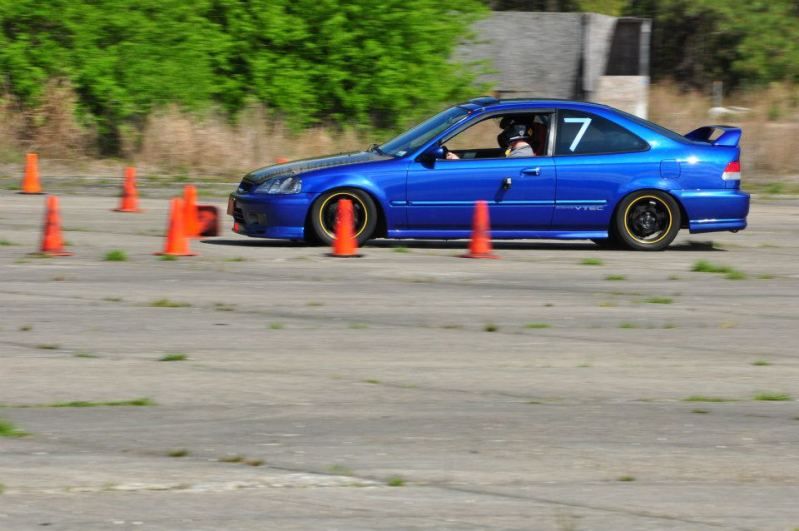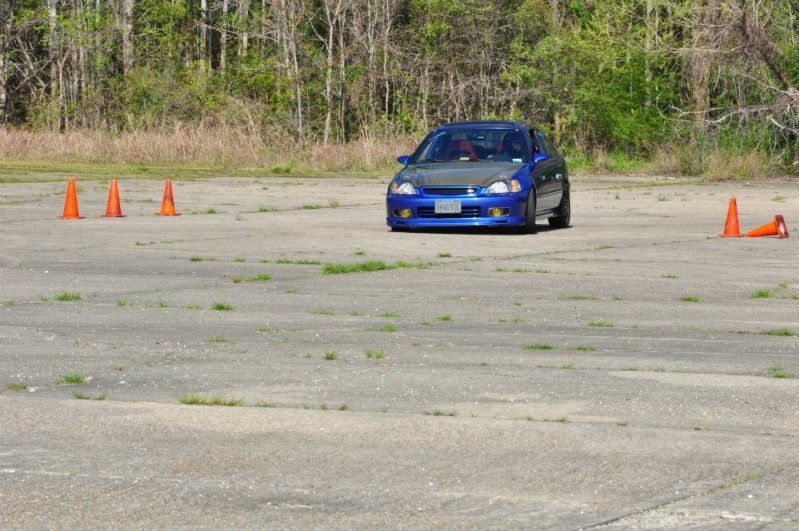 :run:
[hr]
May 2012...
Well good day of racing today
Here are a couple vids...
http://www.youtube.com/watch?v...=plcp
http://www.youtube.com/watch?v...=plcp
And they gave out some of the awards from last season. There were about 60 people in the novice class last year and a lot of different cars with no mod restrictions to enter novice. Only way to run novice was just be first year...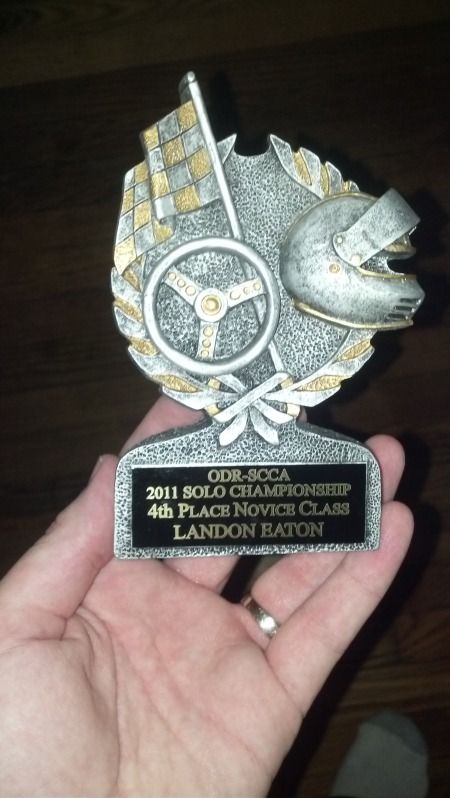 Local show...May 2012. SumoSpeed's SpringFest!


[hr]
July 2012...
Spoon wide rear view mirror? Yes please!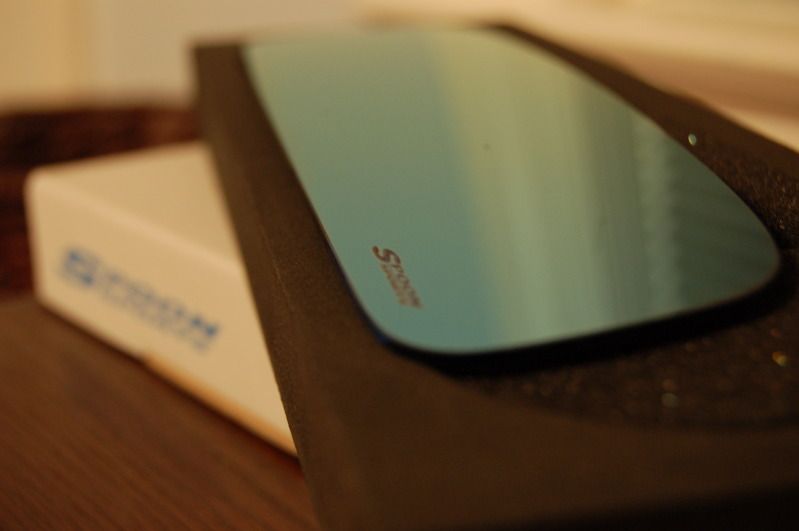 [hr]
July 2012...
Unsigned Spoon VC for daily use...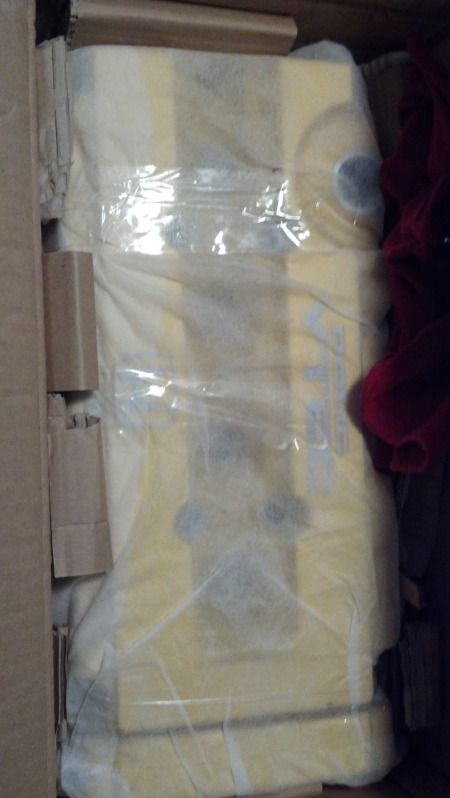 Roll bar back from powder coat, neon yellow!

[hr]
July 2012...
Spoon!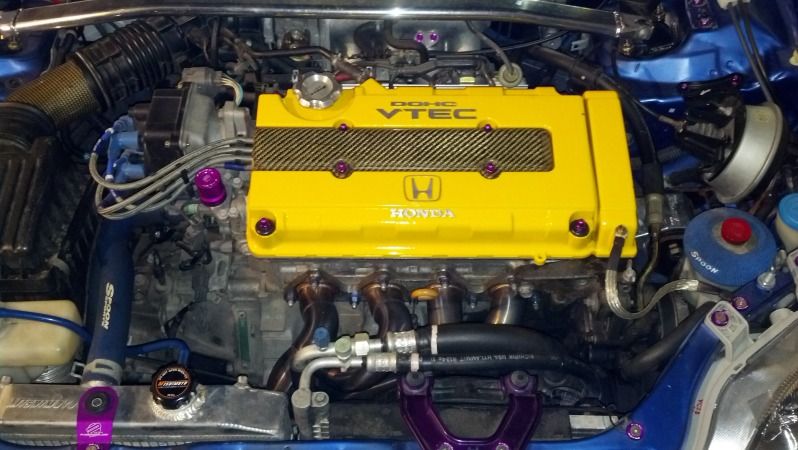 [hr]
July 2012...
Picked up a few things lately...
"New" hood, but it will be delayed in showing since it came in damaged :( And Aerocatch plus flush pins w/ Aerocatch rear back plates.
Import Alliance was this past weekend and of course I was there
I made my way into the K-Tuned booth as a friend was chatting with someone there. Good thing too as it reminded me about the new fully adjustable B series shifter that just came out. Spent a lot of time talking to Stunna Ben and he took me to N1 Concepts booth to check the shifter in a car. K-Tuned did me right and I walked about with one of a couple shifters they brought with them to IA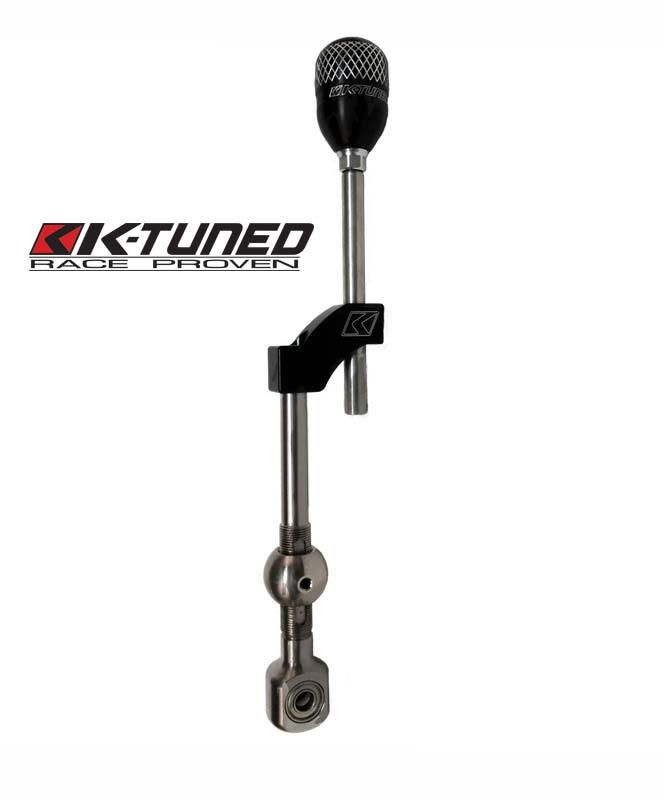 [hr]
August 2012...
RAWR! Today was good
Quick little drizzle on the 3rd of 5 runs.
Run 3
[youtube]TeIDr0r8-wA[/youtube]
Run 4
[youtube]ioWNQOtGcGQ[/youtube]
Run 5
[youtube]TRpjYakq_xs[/youtube]
[hr]
Past weekend...
Saturday, pulled out the interior to finally put my headliner back in. Got that done and all the upper parts in. Ready to start fitting the roll bar and then the FG Si coupe rear seats...
Sunday, fitted the roll bar with the holes all marked to drill. Rear plastics in to mark off the spots to cut for the legs. Should be cutting those out tomorrow and hope to drill out the holes...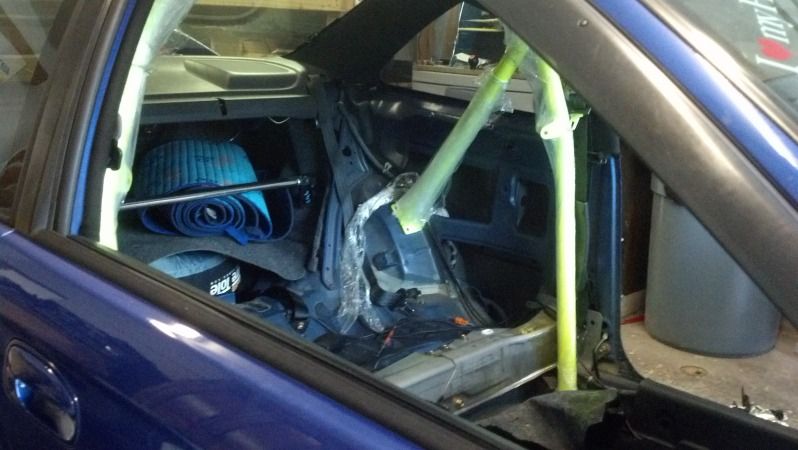 [hr]